Well, there you have it – the HTC Droid Incredible 2 for Verizon showed up on the Verizon and HTC sites fashionably late (today's launch was officially announced on Tuesday, but it's only now that it's showing up on Verizon's and HTC's sites).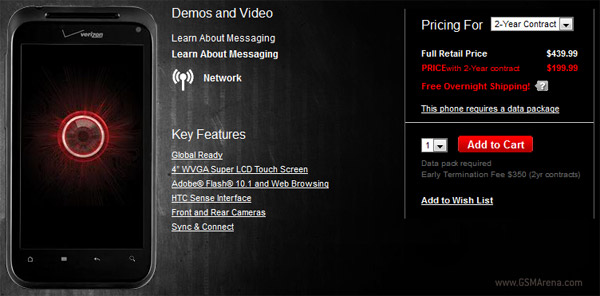 The good thing about the Droid Incredible 2 is that you can take it on vacation even in countries without CDMA networks – it has GSM connectivity as fallback…
The HTC Droid Incredible 2 is targeted for Verizon and you can grab one for $200 on a 2-year contract or just the phone for $440. If you want the same phone but for a GSM carrier then you can go look for the HTC Incredible S.
Still, the Droid Incredible 2 has CDMA connectivity as you'd expect but also quad-band GSM/GPRS/EDGE connectivity and dual-band (900MHz/2100MHz) 3G connectivity with HSPA.
That means you can connect to just about any mobile network in the world and you'll often get speedy mobile Internet access. But you'll have to live with Android 2.2 Froyo for now.
Interested? You can buy a Droid Incredible 2 from Verizon right now.