HTC may have conceived the selfie phone to rule the midrange – if the price is right. HTC cut few corners with the Desire 820 - it has an ample 5.5″ screen of sufficient 720p resolution, HTC's signature stereo speakers up front, a 13MP main camera and 8MP front-facing snapper capable of 1080p video, aimed at selfie enthusiasts and a body with colored accents.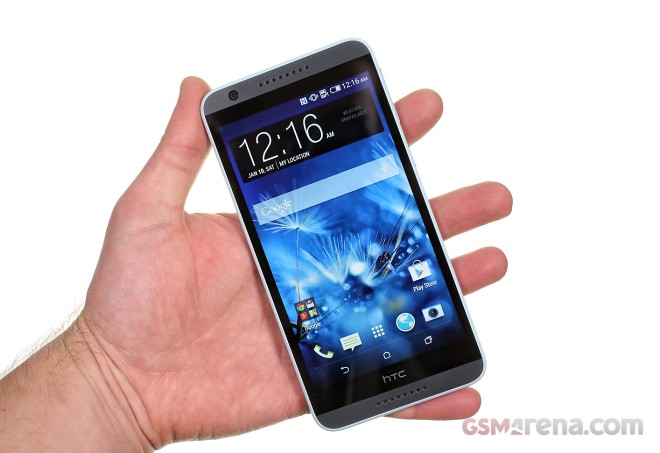 The list goes on to include a 64-bit Snapdragon 615 chipset with an octa-core processor, 2GB of RAM and optional second SIM card slot alongside the microSD card. It really rounds off to a high-value midrange offering that spares neither style nor functionality.
The HTC Desire 820 we have in our midst is the Milky Way grey version with blue-toned accents. The phone has a rounded , sloping unibody made entirely out of glossy plastic. It feels good to the touch but smudges easily and is very prone to scratches. Otherwise the body offers superior build quality compared to the majority of midrange smartphones out there.
The front houses a big LCD of 5.5″ diagonal and a resolution of 1280 x 720px that stretches a little thin to around 267 pixels per inch. Still we'd say the sharpness is adequate and we didn't see much pixelation on-screen. Above and under the display there are two BoomSound speakers hidden under micro-grilled holes in the plastic. The speakers are up to BoomSound standards with quality, deep sound that comes loud enough and very clear.
One of the points in bold here is the 8MP camera sitting on the upper left corner on the front. The resolution is higher than average for the midrange and could potentially steer selfie fans in the Desire 820′s direction. Those same users might be swayed by the dual-colored body as well.
The Desire 820 comes in either single or dual SIM flavor and could be gotten in a heap of colors – Marble White, Tuxedo Grey, Santorini White, Milky-way Grey, Tangerine White, Saffron Grey, Flamingo Grey, Blue Misty, Monarch Orange.
Charged with populating the screen is HTC's Sense 6 sitting over Android 4.4 KitKat. It's a familiar combination and one that has shown its skills over time. The notification area offers a whole panel to quick settings, which can be edited, there is a Do Not Disturb mode for notifications, HTC's camera software is on board with all its shooting modes, bells and whistles and BlinkFeed sits as the leftmost panel aggregating social feeds into a beauty of a carousel. Here goes a quick look at the HTC Desire 820 – both hardware and software.
The only potential spoiler for HTC Desire 820 is the price – the smartphone is notably more expensive than its predecessor. Then again, considering how much extra flare it brings, perhaps it will be able to convince us that it's worth it.