If you're a fan of HTC's One flagship but can't afford the hefty price tag, then we've got something special for you. The HTC Desire 700 dual-SIM takes after its flagship counterpart's, and as the name suggests, even has dual-SIM capabilities thrown in.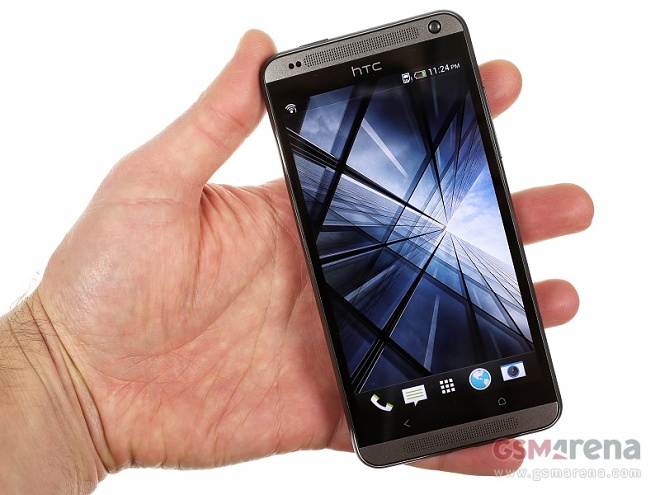 The Desire 700 dual-SIM sports a design that was clearly inspired by the HTC One, only instead of a premium aluminum body the Desire 700 opts for plastic. The latter is unfortunately quite smudge-prone due to its glossiness, and the specs also fall short of HTC's flagship, but the device is more than just a follower in the footsteps of greatness.
The front camera is the same wide-angle 2.1 MP shooter and at the back there's a 8 MP camera with regular-sized (read. not Ultra) pixels. There's also a single LED flash.
As usual we've come up with a video rundown of the device for your viewing pleasure.
The front of the Desire 700 retains the dual speaker layout and we're happy to say that both speakers sound deep and great – more on actual sound in the review, though. The screen has moved up from 4.7″ to 5″ but has moved down from FullHD to qHD (540 x 960) resolution. The processor is also inferior to the One's quad-core Snapdragon 600 – in this case there are four 1.2 GHz Cortex-A7 cores, 1 GB of RAM and a Mali-400 GPU for graphics.
The Desire 700 is noticeably bigger than the HTC One thanks to having a wider screen diagonal but retaining the big bezels around it – especially under and above the display due to the front-mounted speakers. The back panel is removable and gives access to the 2100 mAh battery and the two SIM slots – there's also expandable storage by way of a microSD card slot, which the One sadly lacked. The internal storage of the Desire 700 is also considerably lower at 8 GB.
Software-wise the Desire 700 runs on Android Jelly Bean 4.1.2 and corresponding Sense 5 overlay instead of the One's Android 4.3 and Sense 5.5. What you're missing compared to the flagship's software are quick toggles in the notification area and some under the hood work optimizations, which the Desire 700 should at some point catch up to.
It's a money conscious move – the Desire 700 is aimed somewhere at the midrange segment, while the One is clearly the top dog. This doesn't make the Desire 700 all bad either – it's a reasonable device, which runs very smooth and not only looks like its better-equipped sibling but acts like it too.