HP updated the EliteBook and ProBook series with new devices and it's aluminum and Sandy Bridge CPUs all around.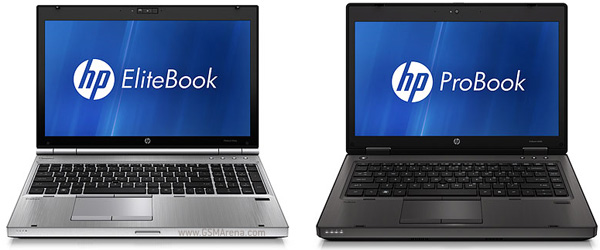 Here's a quick breakdown of the new models…
Two new EliteBook models, 8460p and 8560p, stand at 14" and 15.6" respectively and have rugged magnesium-aluminum alloy cases, which meet the MIL-STD 810G requirements.
The two models come with a variety of Sandy Bridge processors (i3, i5 and i7) with up to 16GB of RAM and either integrated graphics or AMD Radeon HD 6470M. For storage, there's either HDD (up to 750GB) or SSD (up to 160GB).
The 8460p and 8560p offer plenty of USB ports (including two USB 3.0 ports and a eSATA/USB combo) and 3, 6 or 9 cell batteries. HP estimates that the 8460p can go for 32 hours using their Ultra-Capacity Notebook Battery. I'll believe that when I see it.
The 14" model (8460p) weighs 2.07kg and the 15.6" model (8560p) weighs 2.73kg.
The ProBook series received a trio of new models – 6360b (13"), 6460b (14") and 6560 (15.6"). The cases are made of bead-blasted aluminum and magnesium and the keyboard is spill-resistant.
The three ProBooks have their choice of i3, i5 and i7 processors, up to 16GB of RAM and up to 750GB HDD/160GB SSD. The 13" model (6360b) relies on Intel HD Graphics 3000, while the bigger models can swap it for AMD Radeon HD 6470M.
The 13" model comes in at 1.9kg, while the 14" and 15.6" models weigh 2.02kg and 2.5kg respectively.
There are four new s-series ProBooks too, ranging from 12" to 17.3" with brushed aluminum casings and Core i3, i5, i7 processors.