So Tegra Note 7 devices already had their Android 4.4.2 updates primed and ready to go from NVIDIA about four months ago, and just now the HP Slate 7 Extreme received the update.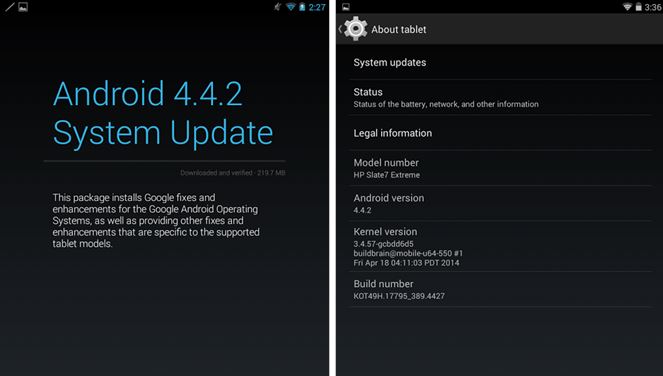 Despite being nearly identical to other Tegra Note 7 tablets, (like the EVGA Tegra Note 7, for example), 4.4.2 has just now been made available for HP's tablet.
So who do we blame for the delay? It's most likely HP's fault, which is unsurprising. It's hard to imagine that the Slate 7 Extreme sold particularly well or is treated as the most important device in HP's lineup, so the update must've slipped through the cracks somehow and not made a priority.
That's a long time for an update to be delayed, especially when you consider that nearly identical tablets received the upgrade months ago. Not to mention that the LG G Pad 8.3 Google Play Edition will be getting its Android 4.4.4 update in a few days. This doesn't make HP seem exactly current with its software updates.
At least HP decided to push the update to the devices. If you're a Slate 7 Extreme owner, all you need to do to get the update is head to Settings > About Tablet > System Update, and then you'll be good to go.
Any Slate 7 Extreme owners out there notice any differences in performance after the update was installed? Are any potential HP tablet buyers put off by the company's slow approach to updating its line of slates?