Hewlett-Packard has quietly released a new trio of Tegra-powered compact tablets that aim to lure more than a few shoppers this holiday season, as well as ultra-cheap dual-core 10-incher.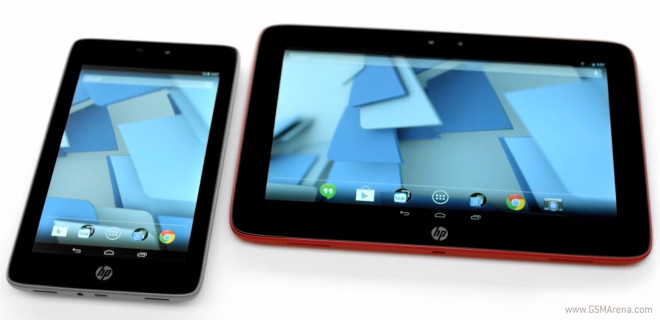 All four tablets are set to come with Android 4.2, with the cheapest starting at $149.99.
Two of the tablets are refreshes of the HP Slate 7 introduced this spring. The Slate7 Plus runs on 1.3 GHz quad-core Tegra 3 processor, with a resolution of 1280 x 800 pixels, 1GB of RAM, and 8GB of internal storage. The 5MP primary camera is capable of 720p video recording, all powered by a 4000 mAh battery.
The HP Slate7 Extreme features a quad-core 1.8GHz Tegra 4 processor with the same display and RAM as the Slate7 Plus, but with 16GB of internal storage and a 4,100 mAh battery. There's also a microHDMI port that's capable of supporting output of up to 4K resolution. At $199.99, the Slate7 Extreme is quite the offer, and well worth the $50 premium over the Slate7 Plus.
The Slate8 Pro runs a quad-core 1.8GHz Tegra 4 A15 processor with 16GB of internal storage and a 1600 x 1200 pixel 8-inch display that has a wider 4:3 aspect ratio. The Slate8 also boasts a microHDMI port, and is also Miracast capable with Bluetooth 4.0, 720p-capable front-facer, and has a much beefier 5680 battery. It runs for $329.99.
Finally, HP's largest offering is not the most expensive, likely due to the dumbed-down processor. The 1.2GHz dual-core Marvell CPU on the Slate10 HD won't be able to match the Tegra performance of the more compact tablets, and its 1280 x 800 pixel density will stretch thin on the 10-inch display. However, 1080p/720p primary/secondary video recording, a 7,000mAh battery, and Beats Audio enhancement make it worthy of consideration at its $299.99 price point.
Currently, the Slate7 Extreme is out of stock, but all of HP's new tablets can be found here.