Apple was very keen to brag about the iPhone 4 high-res screen and for a very good reason. From having one of the lowest pixel densities on the market in the previous generations, the iPhone is now in the lead. The question remains how much of a lead does it have over its rivals and I decided to do a brief comparison to give you an idea about that.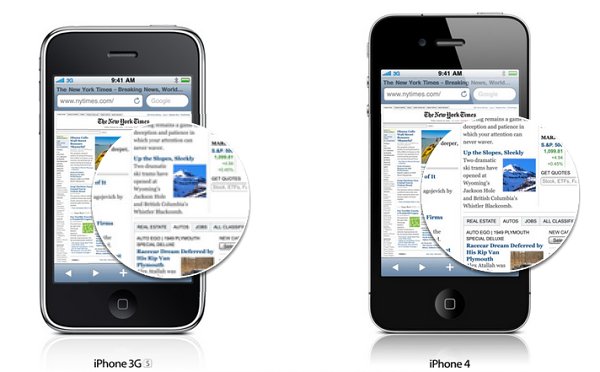 I calculated the pixel density of some of the phones, based on their diagonal and resolution and here is how they rank.
Apple iPhone 4: 326 ppi
LG KM900 Arena: 311 ppi
Samsung S8000 Jet: 301 ppi
Canon EOS 550D (T2i): 289 ppi
HTC Touch Diamond: 286 ppi
Samsung S8500 Wave: 283 ppi
HTC Desire: 252 ppi
Google Nexus One: 252 ppi
Sony Ericsson XPERIA X10: 245 ppi
Samsung I9000 Galaxy S: 233 ppi
HTC HD2: 217 ppi
Nokia N8: 210 ppi
Apple iPhone 3GS: 165 ppi
Apple iPad: 132 ppi
As you can see the iPhone 4 does have a significant advantage over some of its rivals but is not that far ahead when compared with other. In the end it all boils down to the viewing distance as greater resolution matters little when viewed from a great distance as the human sight limitations kick in.