We were really curious to see how will the LTE rocking Samsung Galaxy Note I717 perform in our battery test. As you probably know already, the AT&T exclusive device sports a different, slightly less powerful CPU and chipset than the Exynos of the mighty N7000. With the rest of the hardware being identical in both devices (including the 2500 mAh battery), we are now going to find out which chipset has the upper hand in energy efficiency.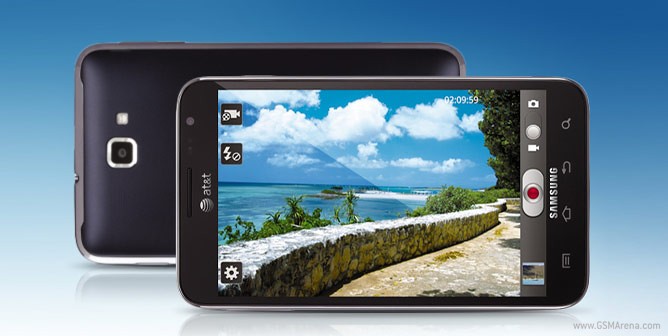 As always, we are going to kick things off with the talk time performance. Here, the Galaxy Note I717 managed 8 hours and 2 minutes before its battery called it quits. This is more than 4 hours less than the global version achieved in our trial.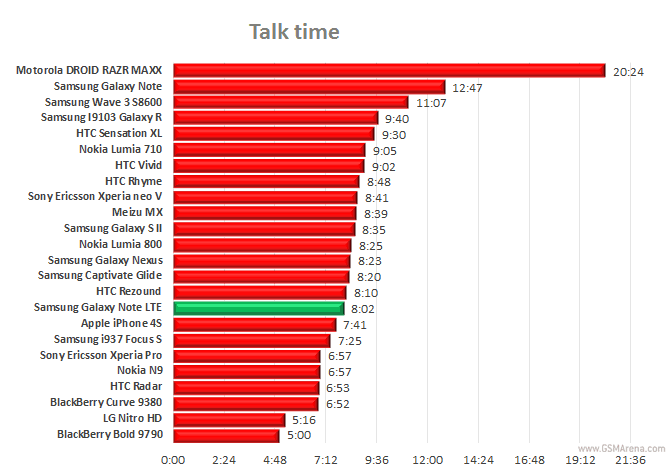 Bear in mind, that the LTE network connectivity of the I717 is no factor in the talk time test. The phoneblet makes calls over a 3G network like its global sibling.
The AT&T Galaxy Note managed 5 hours and 24 minutes of web browsing on a single battery charge. This is a massively better accomplishment than the time of 3 hours and 35 minutes, which its Exynos packing relative achieved. Clearly, the Snapdragon S3 chipset doesn't need as much energy to render web pages on the massive 5.3″ display as the more powerful Exynos silicon.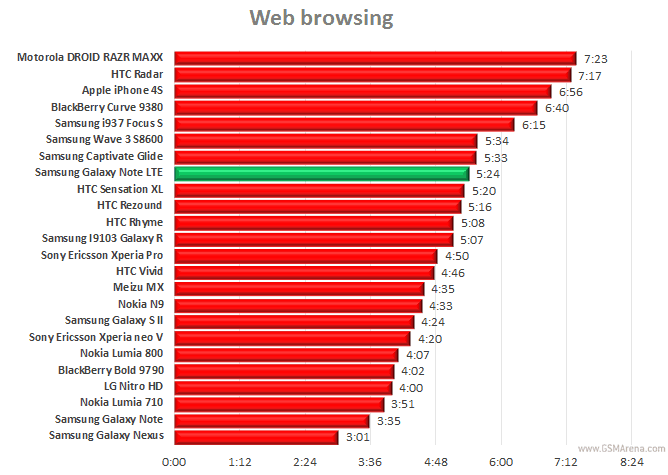 With a video playback time of 7 hours and 30 minutes, the I717 scored almost an hour less than the Galaxy Note N7000. Despite this fact however, the AT&T device is still fairly close to the upper echelon of performances we've seen so far.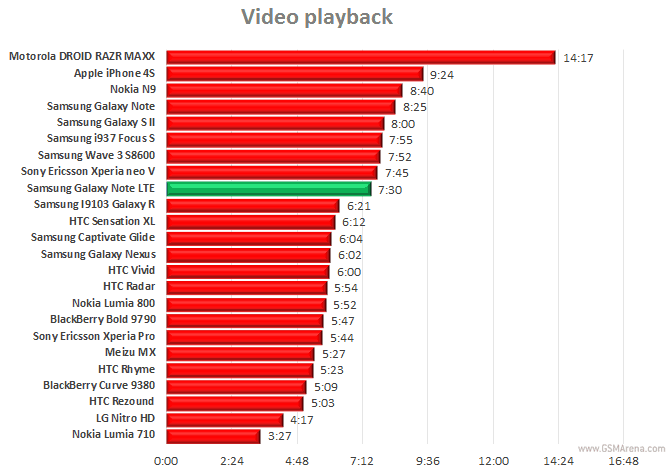 Finally, we have our endurance rating for the Samsung Galaxy Note I717 for you. With a score of 40, the U.S. bound phoneblet did a tad better than the N7000. This means that you will need to recharge your I717 every 40 hours if you use it for an hour each of telephony, web browsing, and video playback.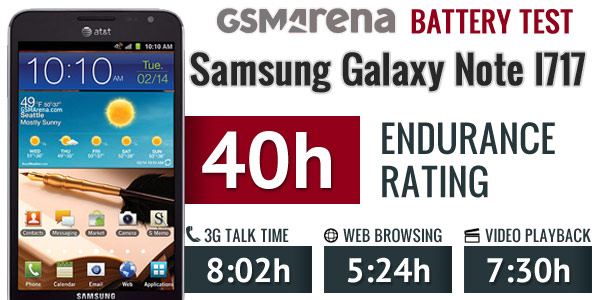 In a nutshell, the Snapdragon S3 does better than the Exynos chipset in web browsing and standby time, but loses points to it in the telephony and video playback section. A tie therefore, is appropriate to call here.
Want to learn more about the Samsung Galaxy Note I717? Check out our full review of the phoneblet here.