We've been enjoying the company of the Samsung Galaxy S4 for a while now and we finally managed to convince it to pose for a quick video for our camera.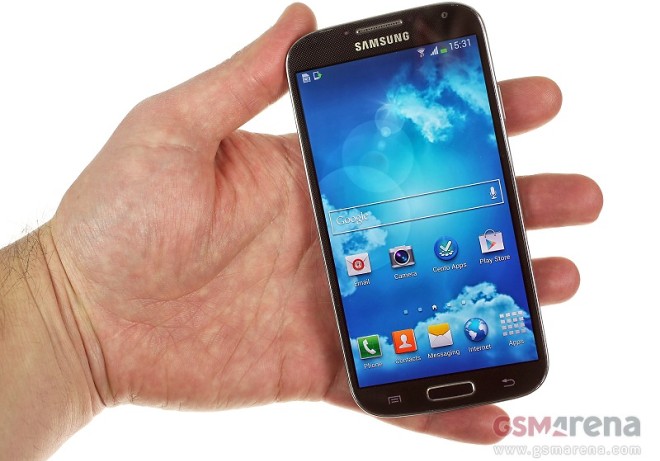 The Samsung Galaxy S4 is a really impressive device that manages to top just about every smartphone in the world where it counts. Compared to the HTC One it features a larger 1080p Super AMOLED display, a higher-res 13 MP camera of great quality, expandable storage, bigger battery, a higher-clocked Snapdragon 600 CPU (or the Exynos 5 Octa with 4 Cortex-A15 cores inside) and manages to pull it off in an body that's actually smaller.
So the Galaxy S4 is clearly a step in front of its current competition but the advancements Samsung has made aren't only on the hardware front. There are lots of new features in TouchWiz, some of which sound as if they are taken straight out of a science fiction movie. Check out the full rundown on video.
In terms of design the Galaxy S4 isn't a drastic improvement on its predecessor. It's made out of the same hyperglazed polycarbonate and is still quite prone to fingerprints. But the Galaxy S4 feels more refined, probably due to the thinner body and has a new pattern that adds to its visual appeal. The slimmer bezels also contribute to the high-end vibe and the aesthetics of the front.
The smartphone feels sturdy in hand. The screen is an absolute joy to work with – it's bright, colors really pop out of the frame and with the acclaimed Super AMOLED tech behind it you can bet contrast is out of this world.
Thanks to the 1920 x 1080 resolution over the 4.99 inches, resulting in around 441 pixels per inch, everything is incredibly crisp and sharp.
We're hard at work to deliver the most in-depth coverage of the Galaxy S4 you can get. Stay tuned for the HTC One vs Galaxy S4 review later tonight and the Galaxy S4 review later on this week.