Google has released a major update to the iOS version of the Hangouts mobile app. Whereas the previous app left a lot to be desired and didn't look or work as you'd expect from an app on iOS, the updated version completely changes that and also adds some new features.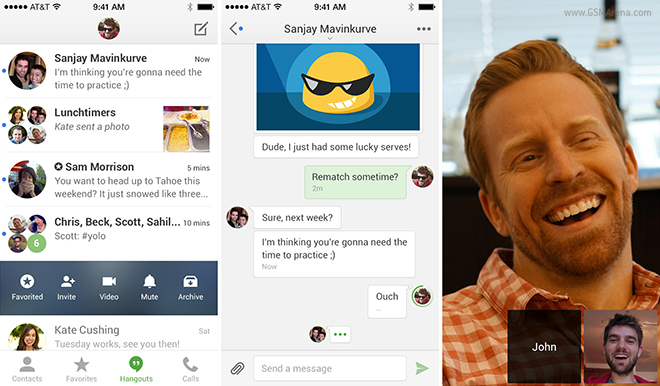 One of the most noticeable changes in the new version is the new UI redesigned for iOS 7. The conversation list view is different and you'll see your profile right up top. Click on it and you'll get options related to your profile, such as account settings and snooze settings. The chat list looks different and you can now swipe on an item in the list and get options to favorite, video call the contact, mute or archive the conversation. All of this works with silky smooth fancy new transition animations.
The chat view is different, too, and much classier than before. There is now an attachment button next to the text box that lets you add an image, location (previously available on Android but now on iOS as well) and a new addition, stickers. Yes, Hangouts finally gets support for stickers and the iOS app is the first one to have them. This feature is not yet available on Android app or the Chrome extension, although you can still view them since they are simply animated GIFs. The stickers in question are just animated versions of the Hangouts/Android KitKat emoji.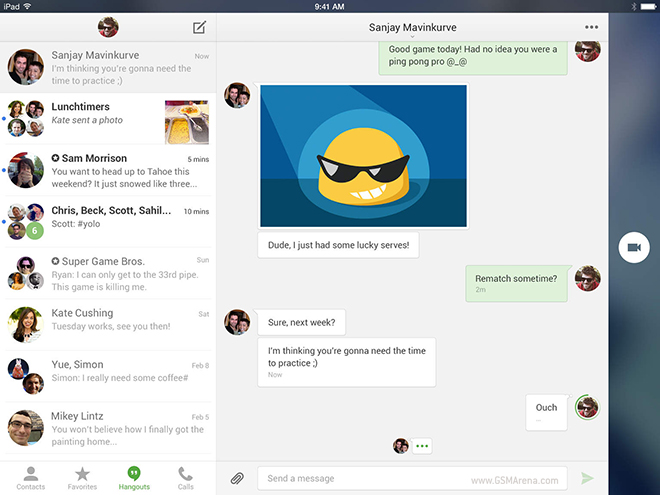 The iPad version gets the bulk of the UI changes with a new split screen mode that makes better use of the larger screen. The previous Hangouts app would just fill the whole screen and looked like a stretched mobile app but the new one splits the screen into conversation list on the left and chats on the right. If you go landscape you'll also see a video call button on the right. To start a video call, simple drag the button across the screen towards the left. The iPad app also gets picture-in-picture video calling, the way you do on desktop Hangouts.
Lastly, there is also a new ten-second video clip feature, that lets you record and send ten-second clips to your contacts instead of doing the whole video call thing.
The new Hangouts app for iOS is finally a legit app that offers the quality that you expect from an app on iOS, with a high level of polish and good design decisions. It's out on the App Store now and if you use Hangouts you should definitely update to it immediately.