Hackaball is the brain child of a group of entrepreneurs who long to revive more traditional social kid games by giving them a new tech twist. What seems like a simple rubber toy has been carefully designed so that it can compete with all the distraction and allure of modern-day tech.
The goal, of course, is to weave the young generation away from the screen and promote more social outdoor activities, but the toy seems to be equally appealing to adults as well.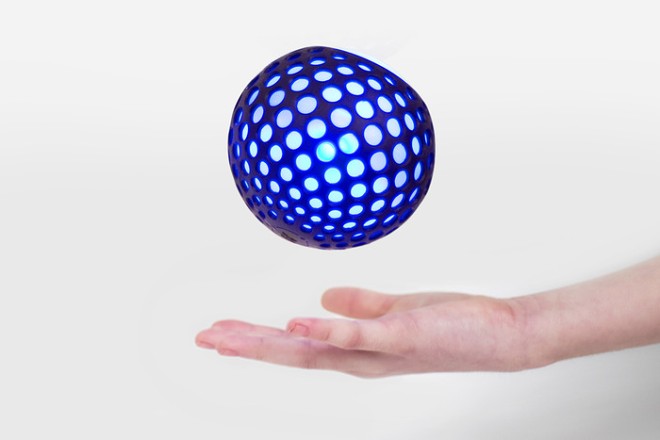 The Hackaball is packed full of electronics, including – a set of LED's, a speaker, gyroscope, accelerometer, vibration motor, rechargeable battery and, of course as small processor with a little bit of memory to make it come alive.
This set of components allows the ball to pick up different interactions like throwing, bouncing, holding and makes it basically aware of its current state. This is then used to develop a simple sequence of rules and conditions, through a free iOS application that ultimately create an interactive game from the analog-looking toy.
The iOS app connects to the Hackaball wirelessly and has a very intuitive and fun interface, allowing kids to instantly pick-up on its various features.
There are several preloaded games and more can be unlocked as you dig deeper in the toy. Games are only limited by your imagination. A simple game of catch can be turned into an intense competition of speed, complete with visual and audio feedback to keep things interesting and engaging.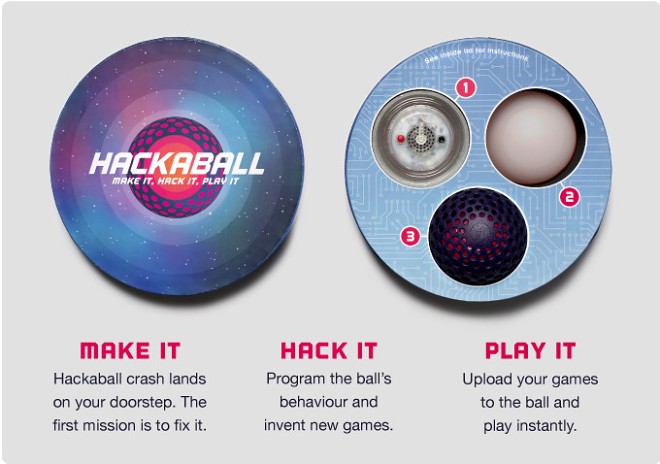 The toy not only promotes active play time, but also helps kids acquire a better understanding of how computers and software work, a skill which is becoming vital in today's world.
The whole user experience is crafted very carefully to appeal to a young audience and play time with the ball is very magical and engaging at the same time. Straight out of the box the user is presented with its first mission to "fix" the ball, essentially understanding how it works and making it operational.
Developers have also included a lot of subsequent puzzles and challenges that need to be completed and "hacked" into the ball in order to work. This is tied together by a reward system as well as various social elements, through which the youngsters can share their creations and boast achievement.
The Hackaball is currently on Kickstarter, trying to raise $100,000. Pledges include an early-bird special for $65, which buys you the ball and the app to get you going.
So if you are looking for a creative and educational gift for a youngster, be sure to check out the ingenious digital ball.