Rockstar has released the 10th Anniversary Edition of their popular Grand Theft Auto: Vice City game on iOS and Android. The game is available on the App Store and Google Play for $4.99.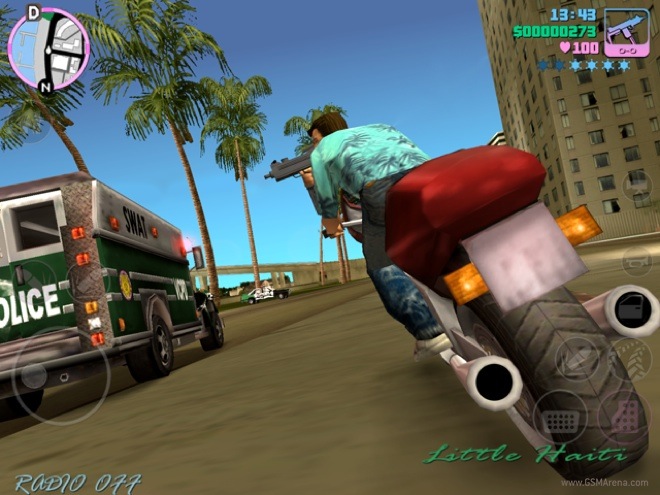 Grand Theft Auto: Vice City for mobile is the exact same game that you may have enjoyed ten years ago on a console or a PC. The graphics have been updated with today's mobile devices in mind, which means the game you will be playing today will be running at a higher resolution compared to what it did on the PS2 all those years ago.
The visuals have been updated with new character models and lighting effects. The controls have also been changed to be optimized for use on a touchscreen and are more precise than before. The iOS version includes support for iCloud game saves and Retina display on the newer devices.
Update: The game is not technically out for Android yet, which is weird since it was supposed to be a simultaneous launch. You can get the iOS version here.
Update 2: The Android version of the game was later uploaded to Play Store, only to be taken down a few hours later. This is likely due to the complaints from everyone who purchased the game, where no one was able to download the additional data required to run the game. No word on when the game will be back on the store and whether existing customers will be getting a refund.
Update 3: Rockstar has issued a statement regarding the Android version. Apparently, it went live before it was supposed to, which is why users were having trouble downloading additional files. The game will be up on Google Play some time in future. Here's the full statement:
We're aware that some users have attempted to download Vice City: 10th Anniversary Edition from the Google Play Store and have experienced validation errors. Just to be clear: the game is not available for Android devices just yet, and if you're seeing it listed on the Store then this is an error, and you shouldn't attempt to download it. We'll keep you up to date and let you know as soon as the game is live and available to purchase.