In celebration of the 10 year anniversary of 80′s style car thievery and gunplay, Rockstar is re-releasing Grand Theft Audo: Vice City for Android and iOS on December 6th.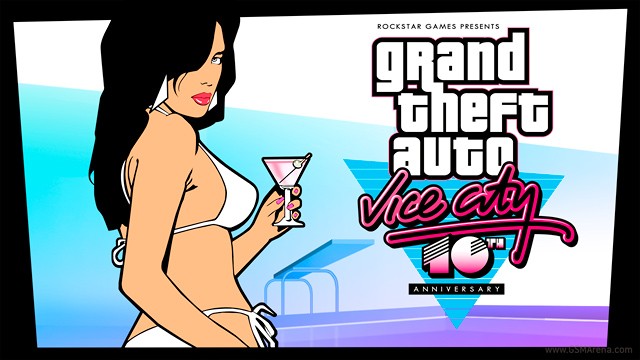 It seems like just yesterday we were busy rolling through Miami on a killing spree to the tune of Roxette.
The 10th Anniversary Edition features native high-res graphics for mobile devices, updated character models and lighting effects, fully customizable controls, and precision targeting and firing options.
Rockstar has also released a list of compatible devices:
Apple iOS Devices: iPad, iPhone 4, 4S & 5, iPod touch 4th & 5th Generation
Android Phones: Motorola Razr, Razr Maxx, Razr Maxx HD, Motorola Atrix, Motorola Photon, Motorola Droid Bionic, HTC Rezound, HTC One X, HTC One S, HTC Evo 3D, HTC Sensation, HTC Droid Incredible 2, Samsung Galaxy Nexus, Samsung Nexus S, Samsung Galaxy Note 1 & 2, Samsung S2, Samsung Galaxy R, Sony Xperia Play, Sony Xperia S, P, T & TL, Sony Walkman Z Series Media Player, Samsung Galaxy S2, Samsung Galaxy S3, Google Nexus 4
Android Tablets: Acer Iconia, Asus Eee Pad Transformer, Asus Eee Pad Transformer Prime, LG Optimus Pad, Medion Lifetab, Motorola Xoom, Samsung Galaxy Tab 8.9 / 10.1, Samsung Galaxy Tab 2, Samsung Galaxy Note 10.1, Sony Tablet S, Sony Tablet P, Toshiba Thrive, HTC Flyer, Google Nexus 7, Google Nexus 10
This is most likely not a complete list of compatible devices, as Rockstar was probably unable to test all Android devices out there.
Look for GTA: Vice City on the Play Store and on iTunes for $4.99 starting December 6th.