Fancy a nice refreshing glass of Pink Peach, or maybe some Orange Papaya, what about Blue Curacao or Lemon Yellow? Well sadly these aren't fruity cocktails but in fact the exotic names of the color choices available for one of Acer's latest netbooks.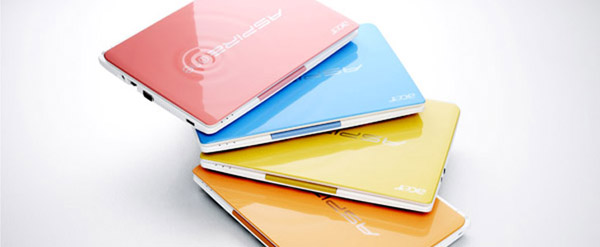 The Acer Aspire One Happy 2 is ushering in the summer gadget season with its colorful outer shell and some powerful inner workings. The Happy 2 (seriously, who names these?) weighs in at 1.3 kg with its 6 cell, 8 hour battery onboard. It supports an Intel Atom N570 dual-core processor, 1GB of DDR3 SDRAM, up to 320GB of hard disk space, an Acer Crystal Eye webcam with Acer's own video conferencing software, totes Wi-Fi b/g/n, Bluetooth 3.0, optional HSDPA modem and runs Windows 7 Starter (32-bit), complete with a 10.1″ WSVGA LED display.
What makes this netbook a little more fruity than normal is that it also comes running a yet to be confirmed version of Android, designed for instant-on boot functionally when you need your netbook at a moments notice. The Acer Aspire One Happy 2 should retail for around €299 on release. It's nice to see a bit more color and style in the netbook world, so if you want to really get your juices flowing, follow through to the source link to see a full rundown of the Happy 2′s specs and its other refreshing color choices.