Justice is finally served and Google Voice is available at the App Store. Apple, with their "no duplication of native functionality" rule, kept the app out of iPhone-land for a pretty long time, but they finally let it in.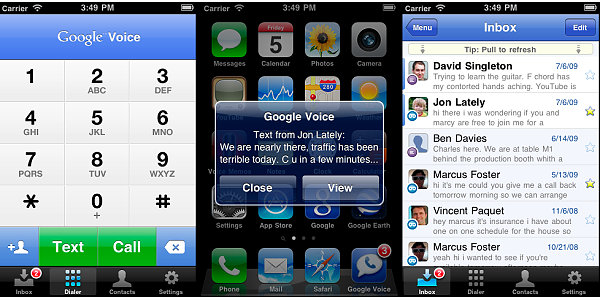 And as was to be expected the native app works way better than the than the HTML5 web app clever Google used to sidestepped this App Store rule so far. Google Voice on iPhone is finally on par with Voice for the other platforms. It still offers cheap international calls, free texting and voicemail transcription among other things but now, since Google Voice for iPhone is a native app, it can receive push notifications for new messages (either text or voicemail).
It also supports Direct Access Numbers, which speed up the dialing process with Voice by eliminating the need to contact Google servers over the Internet before initiating the call.
Google Voice for iPhone is available in the App Store right now, you'd need iOS 3.1 and above to use it. The biggest Google Voice problem still isn't solved though – the service is available only in the US.