After a barrage of mediocre apps for iOS, Google has finally started to take the platform and its users seriously. Two weeks ago we saw the new Google+ for iOS, which not only bests its Android counterpart but also the stock Twitter and Facebook apps by a mile.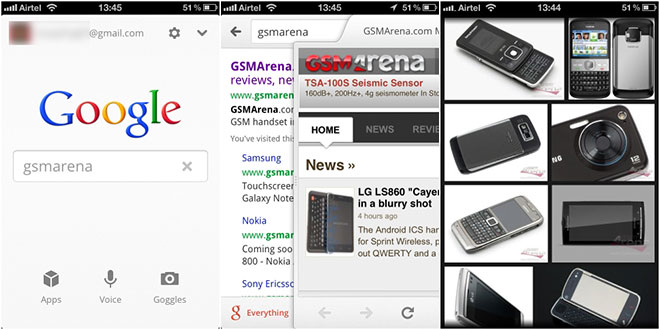 Google has now updated the Google Search app for the iPhone. This isn't a brand new design as we have already seen it on the iPad last year but only now is it trickling down to the iPhone.
The app has a stunningly simple UI with an incredible amount of polish. You can type your search queries or use your voice. The search results don't just look like they have been pulled from the mobile optimized web version. Clicking on a link opens it within the app itself. A drawer slides in from the right and you can continue to browse in it as you do in mobile Safari. To hide the drawer and go back to the search results, just swipe it away. You can pull it back in anytime you want.
Below you will find various search categories. My favourite is the new Image search, which shows beautiful tiled thumbnails of the images and the top and bottom bars move out of your way as you scroll.
You can log in to your Google account, at which point you will also be able to access Google's other services such as Gmail, Docs, Google+, etc. from within the app. These are basically the mobile versions of their services that can be accessed from mobile Safari as well.
While the app is definitely very good, its purpose to exist is dubious. On iOS, it's just easier and quicker to search Google from Spotlight or even from Safari rather than launching a separate app. Still, it is nice to see Google release good quality apps for iOS.