Ever been in a foreign country with no idea what a sign says? Google Translate now lets you snap a picture of it, and then translate the text.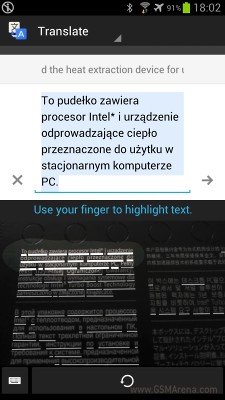 This is a great timesaver as it doesn't need you to enter in the text to translate manually.
The app runs on Android versions 2.3 and up, and allows you to select exactly what you would like translated. This is especially convenient if there is a large amount of text on the page, or more than one language in the image.
Unfortunately, you have to specify which language you want translated (autodetect doesn't work in camera mode), and not all 64 languages supported by Google Translate can use the new camera translate feature. Also, if you exit out of the camera translate interface, it doesn't retain the image you just took and makes you start all over. Hopefully, this will be fixed in the next patch.
Either way, it had no problems with translating the Polish language description on our Intel processor box. You can find Google Translate for Android in the Play Store here.