Google Translate is a great tool for bridging the gap between languages – the Android app was pretty awesome but it let you down when you needed it most, in a foreign country with no data connection. That's no longer an issue, as the latest version of Translate for Android (requires 2.3 and above) can download offline language packs for 50 languages.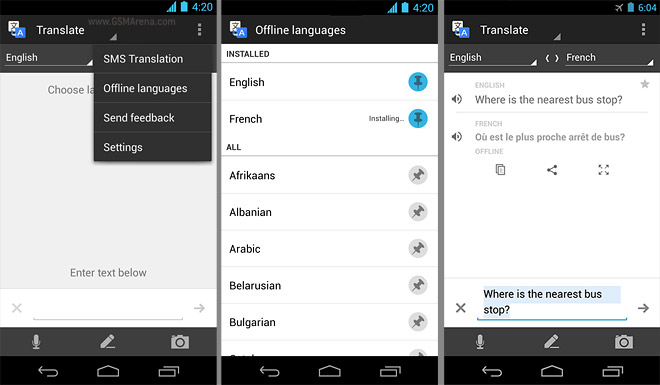 All the popular languages are available and even less common languages are included, like Haitian Creole, Maltese and Esperanto.
When you download an offline pack, you'll first have to download the English pack. The rest of the packs are over 100MB, so better do it over Wi-Fi.
Anyway, with the language packs installed, you'll be able translate words (complete with a list of related words) and whole sentences. The offline packs are apparently not as accurate as their online equivalents but they seem to do a pretty good job in most cases. There are a number of things you lose when offline though – there's no text to speech included in the packs (so you can't hear the pronunciation of the word), the handwriting and camera text recognition don't work either.
The conversation mode, which listens to one speaker and speaks the translation out loud also doesn't work. If you're running Android 4.1 or above, you can download the offline text to speech and speech recognition packages to get things working, though.
If you have Google Translate installed you can update it from the Play Store. If you don't, you can grab it from here.