Google sure are bent on creating the ultimate shopping tool – first Google Shopper showed up, a tool that quickly finds info on a product by scanning its cover art (for books, CDs, etc.) or you can scan the products barcode or search by voice.
Now the mobile version of the Shopping section of the Google website tells you if the product is in stock in a shop near you…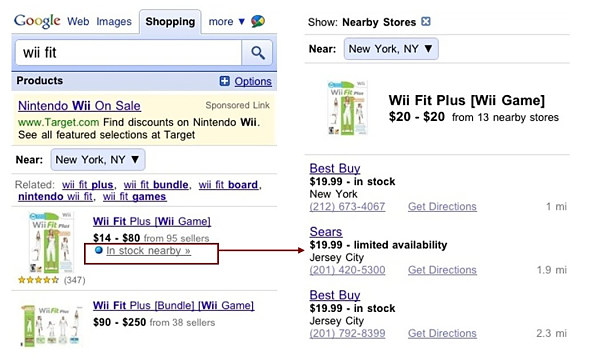 It's a web app, part of the Google site, so you don't need to install anything. Just open google.com, tap More and select Shopping. This works only on the iPhone, WebOS devices and of course, Android.
Anyway, when you search for a product, look for the blue dots – next to them is the "In stock nearby" link. Following that link brings you to a page that lists how far away the shop is (if you've enabled My Location or manually selected a location) and also if the item is in stock or has limited availability.