Google has released v3.9.16 of the Play Store application for Android and with it come some useful new features. One of the new features is the ability to delete apps from your 'All' apps list within 'My Apps'. Anyone who has been using Android for a while will know that this list is cluttered with useless apps that you only downloaded once and then deleted but are now permanently part of that list. Well, not anymore.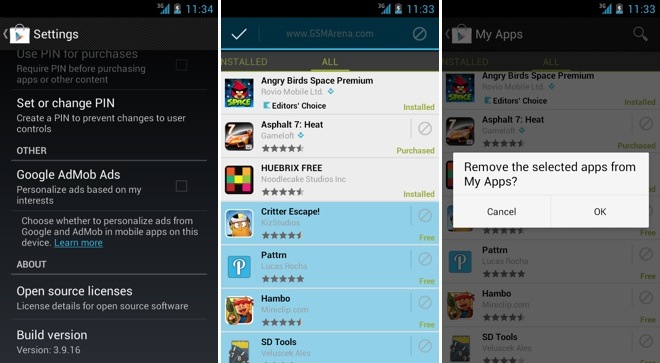 Applications in this list that are currently not installed on your device will now have a delete button next to them, so you can instantly remove them from the list. Moreover, you can now press and hold over these items and delete a whole bunch of them simultaneously.
Another useful new change is that the Play Store app finally remembers your position in a list. Before, if you scrolled down a list and clicked on an item and then went back, you'd go at the top of the list. This would be extremely frustrating of you had scrolled down a lot. Now, the app remembers your position, so you can go back and continue scrolling down from where you left off.
Other minor changes include new notification icons that appear when there is an update available, along with expandable notification option. Your phone will now also show the icon for the app that you updated instead of the same generic icon it showed before. The new Play Store app is also smaller in size than previous versions.
The update is rolling out now so you'll have to wait for it to arrive on your device. Alternatively, you can click on the source link below and head over to Android Police, who have uploaded the APK for your downloading pleasure.