Google is prepping some new changes for the upcoming version 4.4 of the Google Play Store app that will bring it in line with other Google apps on your Android device.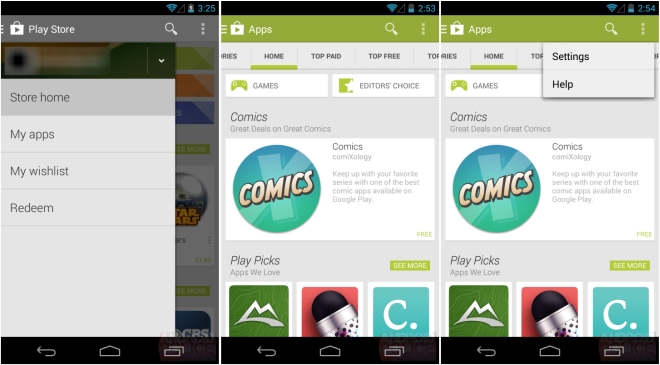 You may have noticed that some of the Google apps, such as Play Books, Play Movies, Play Music, Play Games, Maps, Gmail and YouTube, have a slide out drawer on the side that have tabs for navigation. It's only natural then that the Play Store app also gets the same treatment.
Android Police have managed to get their hands on work-in progress UI screenshots of the upcoming 4.4 update that showcase this new UI. Options such as My apps, My wishlist and Redeem that were previously under the action menu are now housed in the drawer and the action menu now only has Settings and Help options. Sure, it's not that big deal but it helps bring some UI consistency across Google's own apps.
Android Police also says that Google will probably do a complete revamp of the design and what we see here is just a work-in-progress but that is just a rumor for now.
You can find more screenshots in the link below.