If you live in India or Mexico, you'll notice that the Play Store app on your Android phone now has a new tab on the main screen: Movies. Yes, the Google Play Movies service has officially been added to the Play Store in these two countries.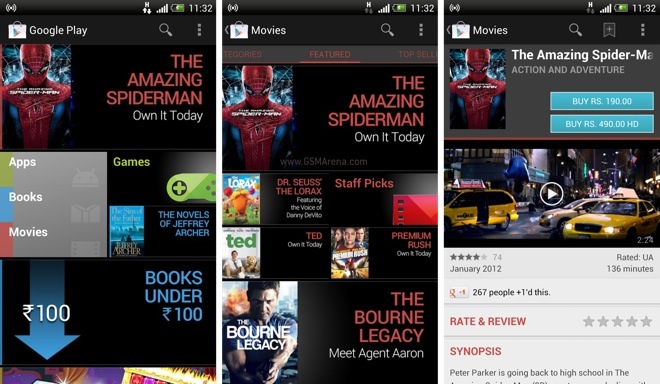 The Movies store works like any other category. You can find a movie by searching for it or pick one from the various categories or genre. Once you find a movie, you can either choose to rent it or buy it. Choosing Rent streams the movie to your device and you have 30 days to watch it and then 24 hours to finish it once you start watching it (you can watch it any number of times in those 24 hours). If you Buy then you can stream it any number of times and even download it for offline viewing. The Rent or Buy option may not be available for all movies, though.
You can purchase movies from the Play Store website or through the app on your Android device. To watch the movie on your device, you will need to download the Google Play Movies & TV app from the Play Store.
The prices, at least in the Indian store, seem on par with Apple's in iTunes, although occasionally you will find a certain title cheaper on one or the other. As of now, though, iTunes has a much wider collection and you get more options for renting and buying in SD or HD but the Play Store should catch up on that shortly. You can spend from ₹50 (approximately $1) all the way to ₹650 ($12) on movies, depending upon the title, resolution or whether you choose to rent or buy the movie.
Unfortunately, just like with the iTunes Store, only movies are available on these stores, with no sign of TV shows as of now.
In other related news, the aforementioned Google Play Music & TV has also been updated with some new features. You can now press pause on tablets and find information about the actors, related films and even the song playing in the background by tapping on the screen in supported movies. This feature, however is US only.
Other changes include ability to search across your library and the Play Store, notifications for new TV episodes if you've purchased the entire season, and a new refresh option in the overflow menu to update your library.
You can download the Google Play Music & TV from here.