Google Now is pretty handy, but you need to check either the notification area or the app itself to see the cards. Not very good for at-a-glance info, is it? This is why the fourth update of Now brings the handy service in widget form.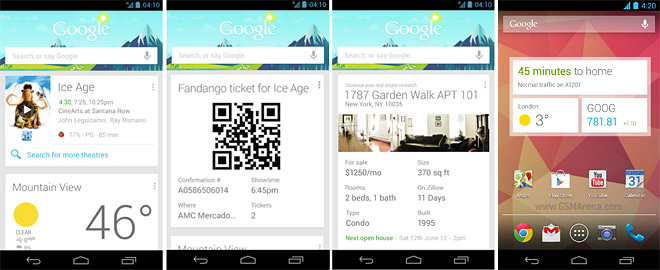 A couple of new cards are tagging along too, they'll make going to the movies and house hunting easier.
Google Now keeps an eye on movie ratings at Rotten Tomatoes and will recommend only the best. And if you buy a ticket through Fandango, Now will remind you to leave on time and will pull up your ticked in QR Code form when you arrive.
The second new card sources info from Zillow, which looks for nearby house and apartment listings and will show photos and essential info for apartment and house listings (size, rooms, rent, etc.).
As for the widget, it's like a slice of Google Now right on your homescreen. The widget can be resized so it can either fill the whole screen or fit alongside other widgets.
To get the updated Google Now you just have to update the Google Search application (on an Android 4.1+ phone). If the app hasn't updated yet, you can do it manually from the Play Store.