Google Now is now available on iOS as a free update for the popular Google Search app. The iOS app recognizes voice and actually looks hotter than its Android peer (the cards have a nice CoverFlow-like view), but can't quite match the functionality of the Google OS version.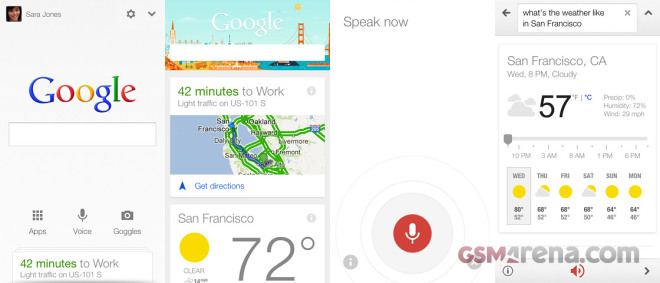 For example you can't interact with the iOS – you can't invoke a call or a navigation route, you can't setup an alarm, do a text a message or a note, etc. Also, Google Now on iOS doesn't speak.
Google Now for iOS still pops up cards depending on your search history, preferences, etc. It will give you weather and traffic reports, will keep track of your favorite sport teams, etc. It will also remind you for stuff you have in your Google calendar.
To experience Google Now's complete functionality you'll need to use Google services instead of the iOS defaults, though, which might be a bummer for some.