Google really like to keep as many things running in the browser as they can – the latest enhancement to what you can do in a browser is browse Google Earth content straight from the Google Maps page…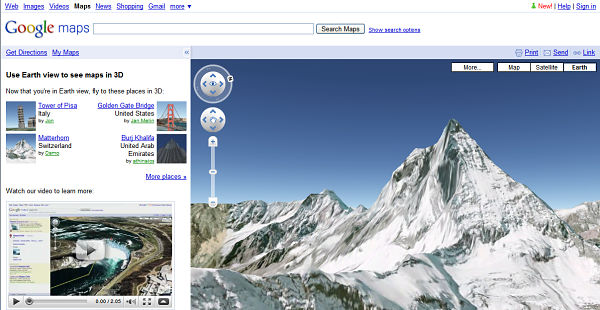 The new Earth view in Google Maps requires a plug-in to run though, we've still got some way to go before those JavaScript 3D standards are finalized. That plug-in has been out for about two years but its testing period has ended and it has been moved to its rightful place – besides the Map and Satellite views in Google Maps.
The plug-in handles the 3D goodies associate with Google Earth – 3D buildings and terrain, tilting the camera and smooth zooming. That won't put Earth out of business (which can show custom GPS tracks, create tours, do flight simulations and so on), but it does break Google Maps out of flatland.
Check it out in action:
Google also offers views of the Moon and Mars, but to view those in 3D you'd need the desktop app, the web UI doesn't support it. But I think it's a feature that may soon be added – perhaps once Google gets feedback from how the Earth view fares in Google Maps.