Get ready for the third "Pay" program. After Apple Pay and Samsung Pay, Google has today unveiled Android Pay at its annual developer conference. Just like its competitors, Android Pay is all about allowing you to easily make payments with your phone, by using NFC and even fingerprint sensors on devices that have them.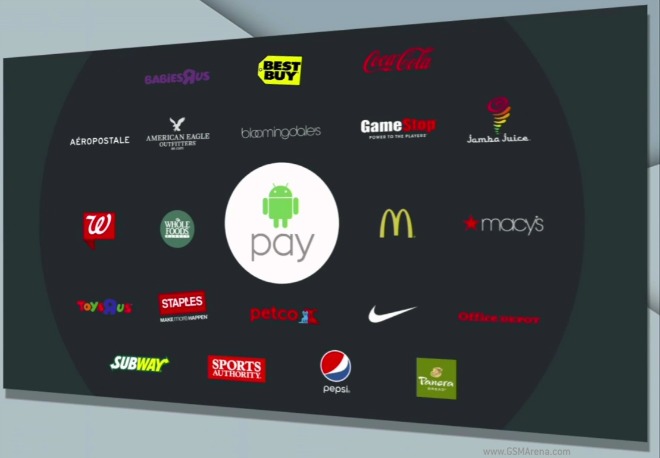 In a similar fashion to the other systems, with Android Pay you add a bank card to an app on your mobile device. When you're at a merchant that accepts Android Pay, you simply unlock your phone and place it near the NFC terminal. The payment goes through without requiring you to open an app or do any other additional thing.
Your payment is processed using a virtual account number, and not your credit card number. The fact that your card number is not shared with the store during the transaction makes Android Pay more secure than traditional payments by credit card, Google says.
You can use Google's dedicated Android Pay app, but also a number of supported banking apps, because this is an open system. You'll be able to add your existing Visa, MasterCard, Discover, and American Express debit and credit cards. More than 700,000 stores across the US, which use contactless payments, will support the system. AT&T, Verizon, and T-Mobile will even ensure that you're ready to use Android Pay when you buy a new phone from them.
Android Pay will work with any Android device with NFC, as long as it runs KitKat or a newer version of the OS. In Android M, Android Pay will support fingerprint sensors for payment authorization, since there will be a standard fingerprint API for developers to take advantage of.
Like Apple Pay, Android Pay will also be available inside mobile apps, in order to make the checkout process as seamless as possible. If you're on Android M, then you can use your device's fingerprint scanner to authorize purchases you make from apps too.
Android Pay will be accessible around the same time Android M is going to be released, later this year. The rollout will start with the US, but Google apparently has global ambitions for its payment system.