Google has had several attempts at cracking social networking and it's fair to say that they weren't terribly successful (there were lawsuits involved). The latest project, called Google+, however looks like it could be a winner.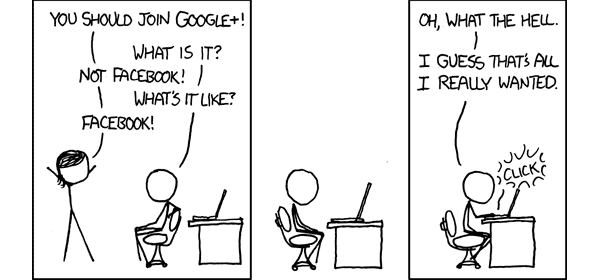 XKCD describes Google+ in a nutshell
After having a quick look at it, it's a lot like Facebook (as XKCD so eloquently put it) but it also differs from Facebook in some respects.
The Google+ project is actually a collection of several +apps and there are more in the works. Google+ is still undergoing testing so its' invite-only for now.
There's a Stream section of Google+ that is equivalent to Facebook's Wall. You can read updates from your friends, comment no them and even +1 them (*cough*like*cough*). The difference here is +Circles.
Circles lets you organize your contacts into social circles – e.g. family, classmates, book club, colleagues, whatever you like. Sharing is done on a circle level – what you share is with your family is different from what you share with your friends and its different from what you share with your colleagues. This way you'll avoid awkward situations where Mom reads something she wasn't meant to see, but also encourages you to share more – something you wouldn't share with hundreds of "friends" most of whom you've added, but barely even know.
Circles also come into play when it comes to hanging out – +Hangouts is a video chat service for multiple people (up to 10). It's more like a chat room than a call – you join the hangout and talk to your friends who are there. The idea is, if they're hanging out then they're free to chat – you're not bothering them with ringing and calling.
Google's algorithms don't have much chance to shine in Circles or Hangouts, but they power +Sparks – you enter your interests and Google will find and show you interesting content on those topics. If something is really good, you can share it with your friends (and they'll, of course, be sharing with you). This is bound to find you conversations starters and maybe cause a few things to go viral.
Google is not ignoring the mobile world. There are simple things like geo-tagging your posts (only if you want to, Google makes it clear it's very careful about privacy this time around) and photos you snap with your phone are automatically uploaded to the cloud (again, only if you want to). Later, you can share them from any device.
Then there's +Huddle. It's a group chat app that is based around Circles.
For now Google+ is invite only and it's not clear when it will be ready for primetime. Google+ is available in the browser and as an Android app and it will be entering the App Store for iOS soon.
This time around Google seems to be doing everything right – making privacy and discretion inherent to Google+, they will even let you easily download your data from Google+ if you want to move it.
If you get an invite for Google+, drop us a line in the comments – we'd love to here what you thought of it.