Google introduced a trio of new features that make searching from a desktop computer so much better. The first feature is Voice search, something that has been around on mobiles for a while.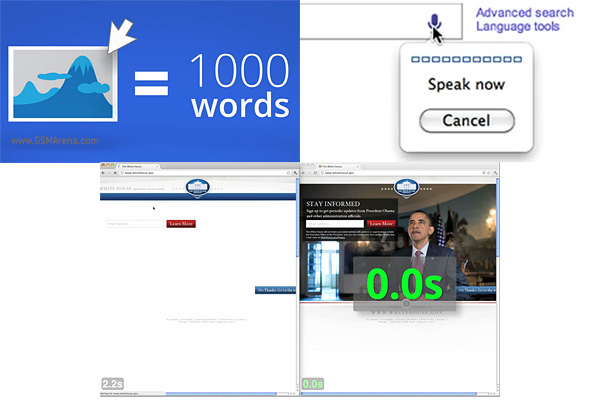 Then there's the Search by image feature, which does what it says and is surprisingly good at it and convenient to use too. There's Google's latest attempt to speed up browsing as well, called Instant Pages.
I'll start with my favorite – Image search. Go to Google Images and drag and drop an image on the search box – it works whether you drag the image from another page in the browser or from your desktop. Chrome and Firefox extensions are also available – they put an Image search option in the right click menu.
From there you can do various searches related to that image – the simplest is simply finding pages that have the image (even if it was slightly altered). You can also search for the same image but in a different size – great for finding a wallpaper sized version of a cool image you've stumbled across.
Google will also try to guess what's in the image so you can do a regular text-based search using that term. I tried it with a picture of boxing gloves and it was correct. The final option can prove very useful too – it looks for visually similar images. That allows for pretty big variations in an image.
Here's a video that explains it.
The Instant Pages feature leverages on Google's predictive algorithms – it tries to guess which of the search results you'll click and in the background it loads and renders that page. So, when you click that link, it will open instantly.
Instant Pages will only do that if it's certain that you'll click that link, so you don't have to worry about it wasting resources – Google is pretty good at guessing. Coupled with Instant search, getting from Google's search page to the desired result takes mind-bogglingly little time.
Initially, Instant Pages will be available in Google Chrome – it's available right now in the Canary channel or you can wait for the next Chrome beta version. Check out this video, which gives more detail on the Instant Pages feature.
Voice search is currently rolling out in English on google.com. You'll need the Chrome browser to use it. To activate Voice search, just hit the microphone icon in the search field and tell Google what you're looking for.
Here's a video explaining Voice search:
You can watch an hour long presentation from the Inside Search event over here. The presentation covers these three features along with many others.