Google added the ability to purchase content from within the apps on the Play Store through in-app billing last year. This allowed developers to sell additional content to their users from within the app, content such as extra levels, extra currency to purchase in-game items and special abilities.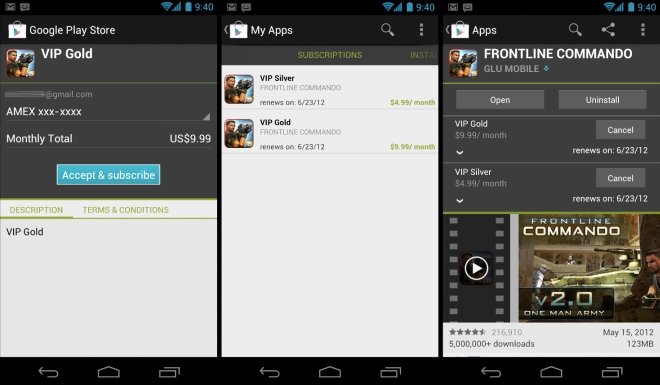 Google has now also added in-app subscription option to the Play Store. The difference between in-app billing and in-app subscription is that subscriptions are recurring and automatically renew themselves after a specific period.
This will now allow developers to sell content such as newspapers, magazines and comic books on the Play Store. The user will have to download the app and then choose their subscription model. After that the Play Store will automatically charge the user, lets say, every month when a new issue of the magazine comes out. The user will get an email notification, informing them about the renewal of the subscription. The user can view or cancel their subscription any time they want.
Google is also introducing a new HTTP-based publisher API. Using this API, developers will be able to let their users carry their subscriptions from one property to another. So in theory, if you, say, subscribed to The New York Times from their website and if the website uses Google's API, then you will be able to carry forward that subscription to their mobile app as well and vice-versa. Of course, this functionality depends upon the developer and how they use it.
For now, you will find the game Frontline Commando offering the option of in-app subscription but many more should be joining it soon. From your end, there is nothing to do; if you have the Play Store app v3.5 and above, you will automatically be given the in-app subscription option as and when available.
For more information, check out the source link below.