Searching by typing is old fashioned – searching with geo-location, now that's new. Google have enabled "Near me now" feature on their homepage, just as they had promised. "Near me" now helps you find restaurants, ATMs and so on that are nearby by using the location information provided by your phone.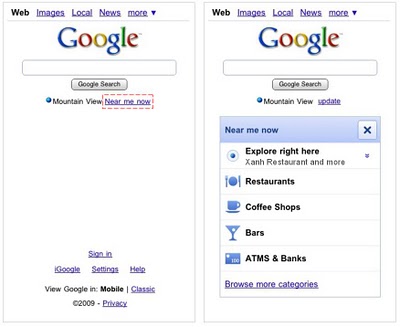 You don't need any special software to access the feature, though it currently works only for Android phones (v2.0.1 and up) and iPhones (OS 3.x). You just open Google.com in the browser and tap on "Near me now".
There are two options – Explore right here, which shows everything that is right next to you, or you can browse several categories if you're looking for something specific. The "Right here" option works only if the provided location is accurate within a city block, though with GPS enabled handsets this shouldn't be a problem.
If you've ever spent half an hour looking for a working ATM (like I have), then the Near me now feature sounds great but it's even better. For each location, users can leave reviews complete with ratings and you also get information like open hours, which credit cards are accepted and more useful info. This is great for last minute decisions like whether you should get into that restaurant you haven't tried before, or look for another one close-by.
The feature is also included in the Android version of Google Maps. All you have to do is press longer on a location and select the "What's nearby?" option.
Between Google Goggles and Near me now, searching using text queries is beginning to look outdated, doesn't it?