Google has updated the Google Drive app for Android with some sweet new features. First of all, there is a new UI for the app, with a convenient drawer on the side for some of the menus. The app also lets you set a thumbnail view for the documents instead of a simple list view.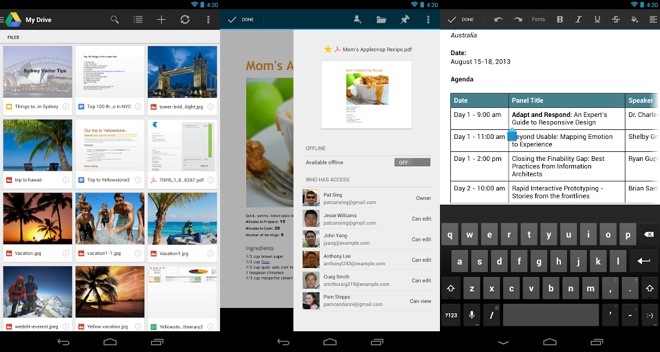 One of the major additions in this update is the ability to scan receipts, letters and documents with the camera and then save them as PDF files on Google Drive. The app then OCRs these documents and lets you search for the text within the PDFs. You can now also download documents for offline viewing on your device.
Here is the full list of changes in the newest version of Google Drive:
- New grid view makes it easier to find your files
- New quick preview lets you view photos and other files from within the app
- Scan documents, receipts and letters for safe keeping in Drive; then search by contents once uploaded
- Download a copy of files to your local device (Honeycomb+)
- Spreadsheet editor now supports changing fonts, colors and cell alignment
- View properties of files from within the editors
- Bug fixes and visual improvements
To download Google Drive for Android, click on the link below.