Google updated the Docs for Android application and brought interface and formatting improvements, but most importantly the latest version features the cool real-time collaborative editing of the desktop version.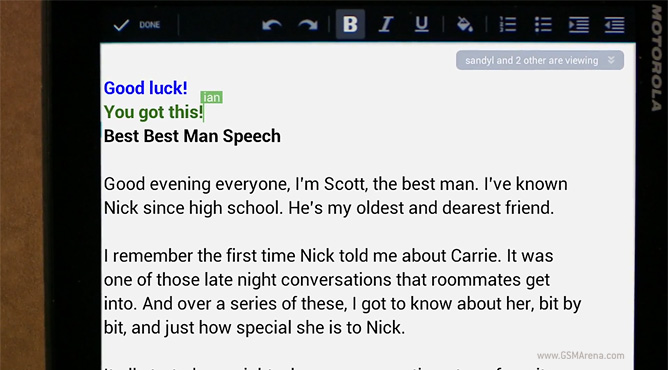 If you haven't seen collaborative editing in Google Docs, you really should – it's quite impressive. You're able to see changes made by other people almost as soon as they make them.
This feature will work even if people on different devices are editing the document – in the browser of a desktop computer, a tablet or a phone, it doesn't matter.
Other nice improvements in the updated Google Docs for Android is pinch to zoom and rich-text formatting. You can create bullet lists, set text color and set its style (bold, italic, underline).
Check out this promo video that shows collaborative editing and the rich-text features in action.
You can use Android Market to update Google Docs or download it if you haven't already.