Google would-be hardware products are all over the place right now – after the Nexus One, the true Google phone, here comes word of the true Google netbook based on the new Chrome OS.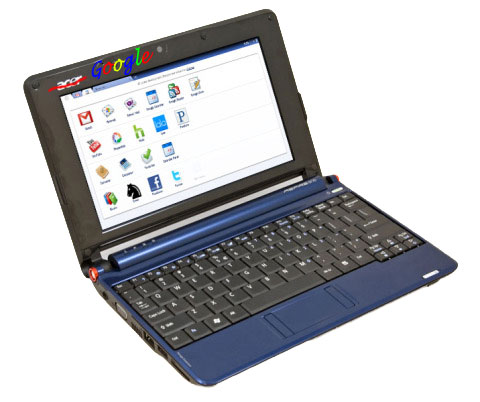 The guys from Mountain View are taking the popularizing of both their mobile and desktop OSes into their own hands… by selling devices themselves.
Technically, the Chrome OS netbook is a smartbook because it is powered by an ARM processor. It's no ordinary ARM platform either, it's NVDIA Tegra, so hello HD video playback. Depending on the Tegra variant that translates to either 720p or 1080p with possibly even HDMI support.
The current rumors don't go into such specifics, they just mention the "HD Ready" multi-touch display with a 10.1″ diagonal.
On the inside, there's a 64GB SSD, which potentially means more speed than regular HDDs and definitely better power efficiency. The Chrome OS netbook (or whatever its real name is) packs 2GB of RAM too, so memory performance shouldn't be an issue.
The CPU is the wild card though – nothing is known besides that it is ARM-based. There's no info on clock speed, plus there are no proper comparisons, showing which is faster clock for clock – an ARM CPU or an x86 CPU. We'll have to wait and see. But ARM CPU + SSD equals truckloads of work time on battery (in theory at least).
On the communication front, the smart/net/whateverbook is very well equipped – Wi-Fi, 3G, Ethernet port, several USB ports and Bluetooth. You also get a webcam and of course, a 3.5mm audio jack and a card reader.
The Chrome netbook will come with plenty of productivity apps preinstalled – Gmail, Google Docs, Google Calendar and also Google Maps and Google Search by Voice. I'm not quite sure "preinstalled" is the right word though, "pre-bookmarked" is more proper maybe?
At any rate, it's clear that Google are trying to displace Windows-based netbooks from their current king-of-the-hill status. The Chrome OS should offer the same software capabilities (and so does Linux but consumers are stubborn) and the killer hardware specs are a great motivation for people to take the plunge and switch away from the Microsoft OSes.
According to the rumors, Google will sell these Chrome OS netbooks directly to consumers or subsidized by a carrier as a part of a 3G plan.
Anyhow, the device should retail for 300 US dollars or less, starting in the 2010 holiday season (yes, that's an year from now). Personally, I can't wait to see it benchmarked – SSD + multi-touch display for a sub-$300 price sounds enticing. And who knows, maybe ARM is the future of netbooks (the OLPC project will be switching to those too).