Google: "Sony Ericsson, please build the Nexus One", Sony Ericsson: "Nah." True story, according to Sony Ericsson's CEO, Bert Nordberg. That's probably not the best idea Sony Ericsson has had lately…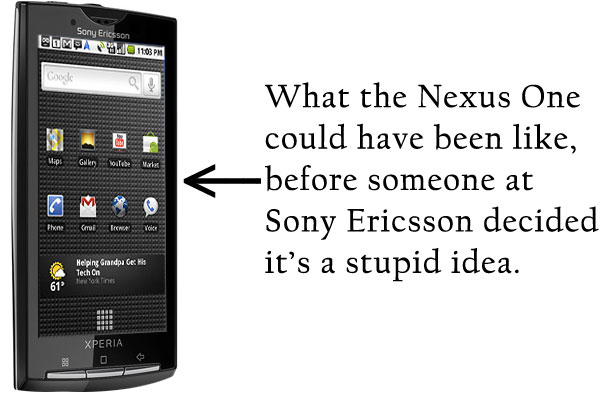 One of the reasons supposedly was that Sony Ericsson only wants to make phones that are their own, to improve brand recognition and what not. Sorry, did they say brand recognition!? They may have gotten James Bond to use their phone, but it's not like any Americans noticed.
But a lot of people know that the Nexus One was built by HTC, plus the HTC Desire is pretty much the same phone. That improves brand recognition for HTC, right? Not to mention the bragging rights.
Another thing – doesn't it sound strange that Google would go to Sony Ericsson first, rather than HTC who made the first "Google phone", the T-Mobile G1, and have a lot of experience building Android-powered handsets. Not to snipe, but Sony Ericsson is still all-talk-and-no-phone when it comes to Android (the Sony Ericsson XPERIA X10 is still "coming soon").
It's not that I don't like Sony Ericsson – I think the Sony Ericsson XPERIA X10 could have made a great Nexus One – in about the same physical dimensions, it packs a 4" screen (vs. 3.7") and an 8-megapixel camera (vs. 5MP) over the Nexus One/HTC Desire.
There's the problem with old Android version, but that's because Sony Ericsson still haven't ported their UI tweaks (Timescape, Mediascape, etc.) to Android 2.1. That wouldn't have been a problem for the Nexus One, which doesn't use a proprietary UI (the HTC Desire uses Sense UI though).
Sure, the Nexus One isn't selling as well as the Motorola DROID (MILESTONE in Europe), but it's better than nothing – plus it's not like Sony Ericsson is swimming in cash. Raised brand awareness is another thing SE badly needs (even at the cost of their wounded pride), especially in the US, one of the Nexus One's biggest markets.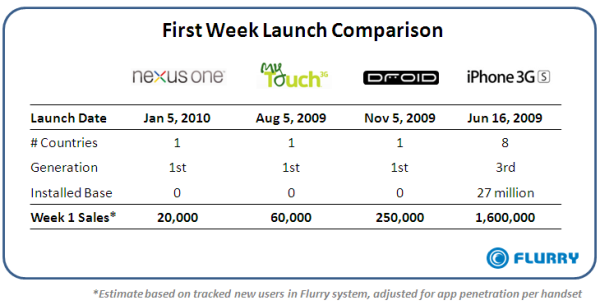 Source: Sydsvenskan (link in Swedish), Flurry Blog