Google released updates for two of their major apps on the same day. The first is the Google+ app, which gets some cool new features. The first one is that the Google+ app now allows teenagers to create and join Hangouts from their mobile, which wasn't possible before due to age restrictions.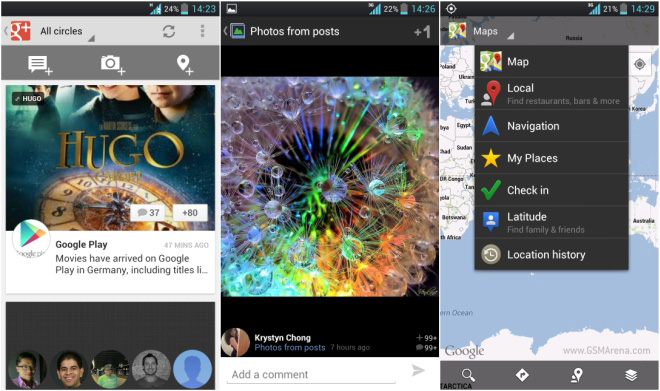 Another cool feature is that the mobile app now allows you to do Hangouts on Air using your smartphone, something that could only be done on desktop before. In case you are not aware, Hangouts on Air lets you create webcasts over Google+.
Other changes include floating timestamp in Photos view, shortcuts for post creation that pop up at the top if you scroll up and the ability to report abuse in Events.
Moving over to Google Maps, the first thing you'll notice after you install the update is that it has a new icon, which for some reason does not show up on the Play Store page on either the phone or the web site.
This update also brings changes to the Transit feature and now you can choose a particular type of transportation system and only show transit lines for that system. There is also an updated layout for station pages.
Google has also updated the region highlighting, that includes the following changes:
Now, whenever you search for a city or postal code, the borders of that region are highlighted.
Under My Places you'll notice we've added new tabs, which will help you access all your information from a single place; from your saved maps for use offline to your starred places and Custom Maps created on your desktop.
If you enable Location History, you'll be able to browse the places you've been on a daily basis with an updated Location History dashboard.
You can download both the apps from the respective links below.