Gigabyte is showing off two new devices at CES – the T1006M, a Windows 7 convertible netbook-tablet, and the S1081, a pure Windows 7 tablet. Both have 10.1″ capacitive multi-touch touchscreens outside and Intel's latest Cedar Trail Atom dual-core processors inside.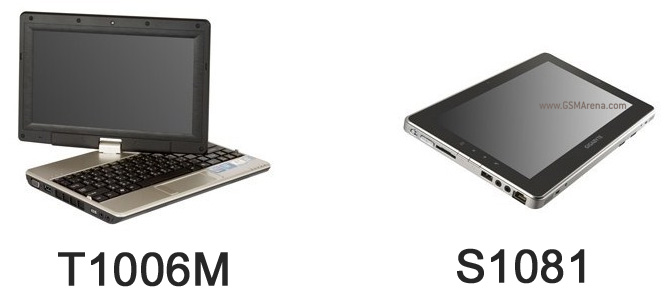 Where they differ is the keyboard. The T1006M has one, but unlike traditional netbooks, you can quickly transform it into a tablet by turning the screen around. Impressively, its 10.1″ screen has a 1366×768 pixel resolution, typically found in larger displays.
There's also USB 3.0 on board and an optional 3.5G data modem. The Gigabyte T1006M is powered by a Cedar Trail Atom CPU, but there's no info on which one (it's either the 1.6GHz one or the 1.8GHz one – there's not much variation in the Atom line). A 6-cell battery provides plenty of juice, but Gigabyte says nothing regarding battery life.
Anyway, if you don't like the burden of a keyboard, the S1081 tablet offers a 10.1″ capacitive multitouch screen too (plus an optical trackpad if the accuracy of your fingers isn't enough) and you can always plug in a USB keyboard (USB 3.0 is supported). A carrying case and a keyboard were specifically designed for the S1081 but any will do.
The tablet offers a choice between 500GB HDD or a smaller but faster SSD. Connectivity is well covered on the S1081 – there's everything from Bluetooth 4.0 to HDMI and even a good old VGA port. There's a 1.3MP webcam too.
The tablet's functionality can be expanded with the multimedia docking station – it comes with a DVD drive and 2+2 speakers built-in, plus some extra ports.
There's no info on pricing or availability on either gadget in the press release, so we're hoping Gigabyte's presence at CES will provide some clues.