Part of Motorola's Moto X X8 chipset is the always-listening core that activates the phone and Google Now with the magic words "Okay Google Now". That little neat trick made geeky smartphone-loving hearts everywhere skip a beat and many wanted to get the feature for their not-Moto X Android smartphone.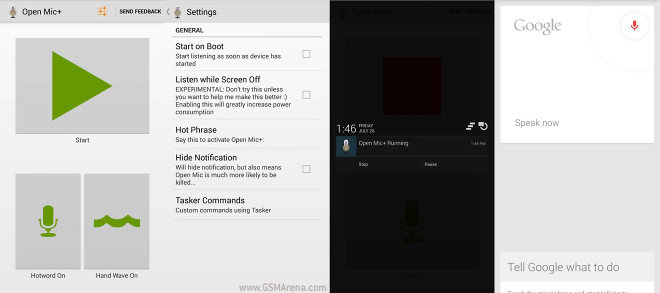 Thanks to Open Mic+ that feature is available to all, ad-free and for the price of none over at the Google Play store (links after the break).
Open Mic+ can silently run in the background of the OS and can be activated via "Okay Google". It prompts Google Now for searches and commands and uses offline voice recognition, saving you data plan some of the sweat. The app also plays nicely with Tasker so you can call out your custom tasks via your voice and some pre-setting.
The app, however, raises concerns of being an absolute battery killer as without the dedicated core it can't possibly be as efficient as the Moto X solution.
Get the free app here.