We had some fun testing Gametel's Portable Games Controller last month and were impressed with its performance, offering Android devices far better gaming prospects than with touchscreen only controls (Xperia PLAY aside).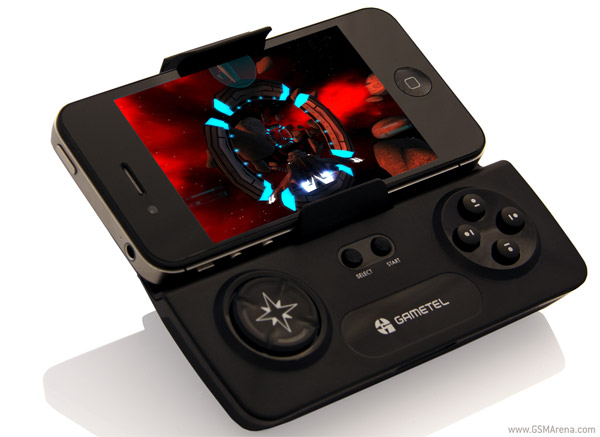 Now, in the lead up to CES, makers Fructel have revealed that the hardware gaming goodness is no longer exclusive to phones that favor Google, with iOS getting in on the action in the coming days.
This means iPhones, iPads and iPod Touches running iOS 4.0 and up will be good to go, out of the box and with their App Store app waiting in the wings alongside the number of games already available and more importantly, compatible with the Gametel, it could be a match made in heaven for iOS gamers everywhere.
In the meantime, check back at our review to see what the experience is all about and if you're heading to CES, you will have the chance to try the Gametel out for yourself.
Here's the full press release:
Gametel announces support for Apple iOS devices
Wireless gaming peripheral now compatible with iPhone and iPad
CES Unveiled, Las Vegas, 8th January 2012. Fructel, a gaming peripheral company, announces the Gametel now supports iOS devices. Previously only compatible with Android smartphone and tablets, the Bluetooth controller now transforms your iPhone and iPad into portable games console, delivering a level of gameplay accuracy and immersion never experienced on Apple devices.
Compatible with Apple iPhone running iOS 4.0 or later and Apple iPad running iOS 3.2 or later, Gametel supports hundreds of arcade titles from the iCADE suite, including classics like Missile Commander, Asteroids, Centipede, Pong, Super Breakout, Lunar Lander and Warlords.
Alongside these retro titles, other selected iOS games, such as No Gravity, Silverfish, Super Crossfire HD and Terra Noctis, are also available to download from Apple's iTunes App Store.
Bo Nyman, CEO of Fructel says: "Gametel has proved popular among Android users but we're pleased to bring support for the Apple iPhone and iPad. Now users can experience even more immersive gameplay using the Gametel's console-style controls – freeing the touchscreen from fingers."
Gametel connects to the device via Bluetooth while a built-in adjustable spring-loaded clamp allows secure docking of any Android handset and iPhone. Once paired the Gametel automatically connects to the device every time it is powered on.
With a familiar controller design, Gametel's D-pad, quartet of buttons and two shoulder triggers replicate console-style gaming controls; an impressive nine hour battery life provides more than enough playing time for long journeys and weekly commutes.
Please visit www.gametel.co.uk for further information.