Gameloft, the developer of some of the finest Android games will be giving away some of its works for free this weekend. There will be three titles in the giveaway, one for Friday, Saturday and Sunday.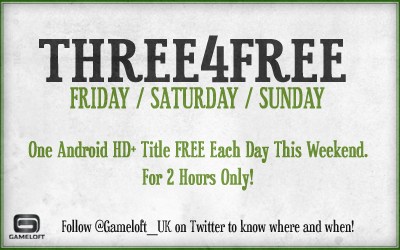 To participate you need to follow the Gameloft UK account on Twitter, so you can learn on time when a free game has been made available. Each of the giveaway games will only stay free for a couple of hours so unless you pay close attention you might miss it.
It is not quite sure though which Gameloft games will be given away, but knowing the quality of their products you probably won't be disappointed if you participate. So fire up those Twitter clients and stay tuned for the upcoming three days.