If you are a gamer, you probably start salivating at the sound of names like Battlefield 3, Batman: Arkham City and Uncharted 3: Drake's Deception. Unfortunately, there is still some time for these games to arrive. But we have something to keep you busy till then.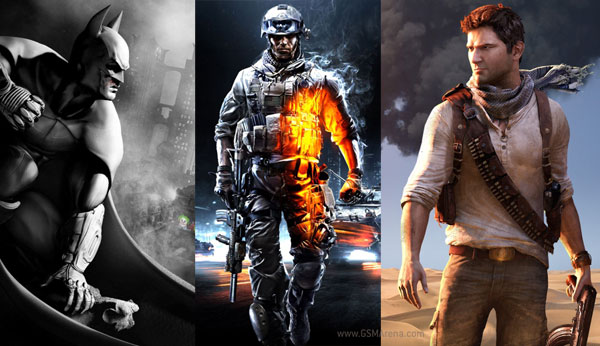 Now I know these are just the game trailers and you have probably seen them before anyway. But this is just something to pass your time till you wait for the real thing. And we have tried to include gameplay videos wherever we can instead of just trailers, so they are all the more exciting to watch. So, let us begin then. Head past the break to watch all the trailers we have collected for you.
Update: The list of games has been updated. It is still far from complete so if there is something you feel should be here do let us know in the comments section.
Battlefield 3 (October 25, 2011; PC, PS3, Xbox 360)
Call of Duty: Modern Warfare 3 (November 8, 2011; PC, PS3, Xbox 360)
Batman: Arkham City (October 18, 2011; PC, PS3, Xbox 360)
Gameplay
Riddler Teaser
Uncharted 3: Drake's Deception (November 1, 2011; PS3)
Mass Effect 3 (March 6, 2012; PC, PS3, Xbox 360)
Trailer
Gameplay
Tomb Raider (Autumn, 2012; PC, PS3, Xbox 360)
Teaser
Gameplay
Need for Speed: The Run (November 15, 2011; PC, PS3, Xbox 360)
Trailer
Gameplay
Bioshock Infinite (Q2, 2012; PC, PS3, Xbox 360)
Trailer
Gameplay
Far Cry 3 (March, 2012; PC, PS3, Xbox 360)
Deus Ex: Human Revolution (August 23, 2011; PC, PS3, Xbox 360)
Gears of War 3 (September 20, 2011; Xbox 360)
Assassin's Creed: Revelations (November 15, 2011; PC, PS3, Xbox 360)
Resistance 3 (September 6, 2011; PS3)
Rage (October 4, 2011; PC, PS3, Xbox 360)
Trailer
Gameplay
The Elder Scrolls V: Skyrim (November 11, 2011; PC, PS3, Xbox 360)
The Legend of Zelda: Skyward Sword (Q4, 2011; Wii)
Trailer
Gameplay
Kirby Wii (Fall, 2011; Wii)
Trailer
Gameplay
Mario Kart 3DS (Holiday, 2011; 3DS)
Trailer
Gameplay
Diablo III (TBA; PC, Mac)
Trailer
Gameplay