It might be an American holiday, but on July 4th, the Samsung Galaxy Tab S will hit the UK.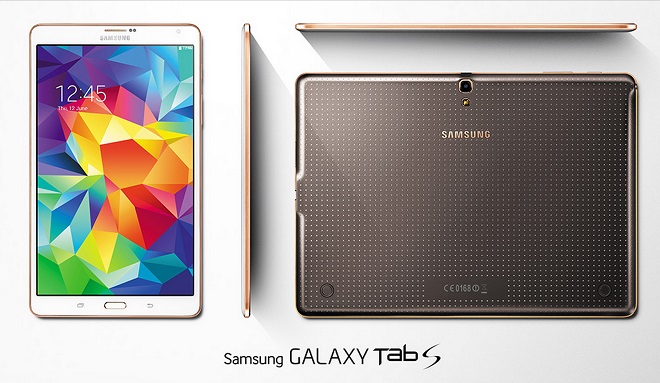 We've got a rundown of the Galaxy Tab S' specs, and it looks like the Korean tech giant is gunning hard to take on the iPad.
Design-wise, the slate takes its cues from the Galaxy S5. It has the same, dimpled back cover that has been the trademark of Samsung's latest flagship phone.
The screen of the Galaxy Tab S is a WQXGA AMOLED unit, with a display resolution of 2560×1600; better than the current iPad's. Under the hood, you'll either get an Exynos 5 octa-core chip, or a 2.3GHz Qualcomm Snadragon processor, akin to the one found in the Samsung Galaxy S5. It also packs 3GB RAM, 16GB or 32GB of storage, with a microSD card slot that is capable of taking up to 128GB cards. Like most tablets, there are WiFi only and LTE models available. For photography, you'll get an 8MP primary camera and a 2.1MP selfie unit. The slate is also packed with an IR blaster, so you can control and interact other devices that are rocking infrared.
The size of the battery depends on the size of the tablet that you opt for: the Galaxy Tab S comes in 8.4″ and 10.5″ models, and you'll get a 4900mAh or 7900mAh battery, respectively.
In terms of new software features, the Tab S boasts SideSync 3.0, which allows you to view your smartphone's homescreen on the tablet's phone. So you'll be able to take your phone calls through the tablet.
The Tab S also comes with Galaxy Gifts, which is an application that gives you extra perks in the form of discounts, and gratis subscriptions to certain paid applications. This includes 2GB of dropbox storage (for two years), a three month subscription to Marvel Unlimited digital comics, a six month trial of Livesport TV, and free select cars in Asphalt 8. To see the full list of all the perks, hit the source link below.
You'll also be able to get a standard folio keyboard for your Tab S, along with Logitech's announced Type-S keyboard, which boasts a variety of different positions in which you can use your Galaxy Tab S. Samsung will also release a Book Cover and Simple cover for its upcoming tab.
Expect the Tab S to drop in the UK on July 4th. The base model 8.4″ version will start at £319 ($399 in US), and the base 10.5″ will run you £399 ($499 in US). Anyone excited about picking one of these bad boys up?