The first official review of the Galaxy S5 is out, even though the phone is still some way off from being officially available. The review touches upon various aspects of the phone's performance, talking about some of the new features and how it fares compared to its predecessor.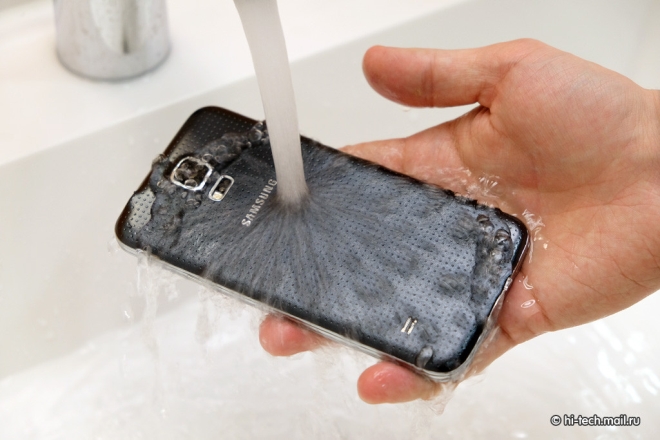 Starting with the design, the S5 is physically larger than the S4 but it more than makes up for being water resistant. Although Samsung made it clear that the phone is only water resistant and not waterproof, as you can see in the image above the phone can safely be left underwater for a while without damaging it.
The display has also been improved compared to its predecessor. The color accuracy seems to have been improved, especially at odd viewing angles where the colors remain truer compared to the S4.
The 16 megapixel camera uses the new ISOCELL sensor technology but the performance was said to be on par with that of the S4 and oddly slightly worse in some cases, although this aspect would need to be revisited with a retail model running final software.
The performance of the phone was also said to be impressive thanks to the new Snapdragon 801 processor, even though the phone lacks the 3GB RAM found on the Xperia Z2 and the Note 3 and makes do with 2GB instead.
You can go through the whole review for yourself from the link below. It's been translated from Russian so won't make a lot of sense at times.