Android 4.1.1 for the Samsung Galaxy Note 10.1 and Samsung Galaxy Tab 2 7.0 is now available via a leak of an pre-release OTA update of the new Jelly Bean build.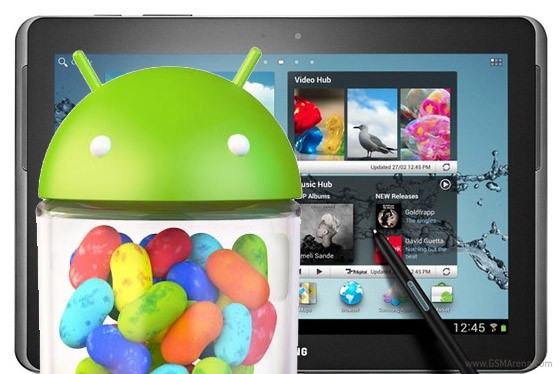 Before you jump aboard, however, you need to make sure you have a specific firmware version for either tablet. Specifically, firmware version N8000DDALH1 for the Galaxy Note 10.1, and version P3100DDBLH3 for the Galaxy Tab 2 7.0.
The leaked update is a prerelease version and does have its fair share of bugs, but will give you a taste of what the upcoming Jelly Bean experience will be like for your device.
Be sure you backup all your apps and important data beforehand, and keep in mind that this process could void your warranty.
Here is the full list of instructions for installing the update taken from our source link below:
Download and run Odin 3.04
Restart the device into download mode (Press Power Button + Volume down)
Connect phone and wait until you get a yellow/blue sign in Odin
Add N8000DDALH1_N8000DDALH2_N8000DDLG5.tar.md5 (for Note 10.1) or P3100DDBLH3_P3100ODDBLH1_P3100DDLG1_HOME.tar.md5 (for Tab 2 7.0) to PDA
Make sure re-partition is NOT ticked
Start the flash – be patient as this process takes a while
Download the N8000DDALI1 (Note 10.1) or P3100DDBLI1 (Tab 2 7.0) OTA Update
Copy the OTA update to your External SD Card
Restart the device into Recovery Mode (Press Power Button + Volume up)
Select Apply update from External Storage
Browse to the OTA update and flash it
When OTA update is flashed perform "Wipe Data/Factory Restore" (Will format your internal SD Card)
Reboot your device
For more info, you can go to the SamMobile.com source posts here and here. Happy flashing!