Some things just shouldn't exist but they do – the Windows 7 running Fujitsu F-07C is one of those things. Note that this is "Windows 7″, not "Windows Phone 7″. And that's not the weird part either – the phone actually runs Symbian on an 600MHz Atom CPU, along with Windows 7 running inside a virtual machine (rather than a dual-boot solution as originally thought).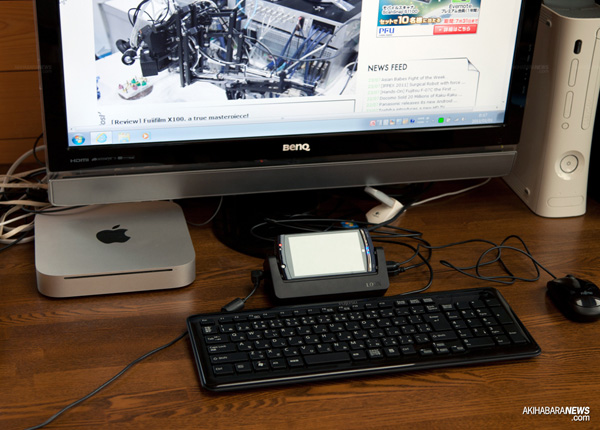 Actually, the idea behind the F-07C is a good one – it's just that it's too late. Akihabara News have a review of the odd gadget, so go check it out if you're curious. Here are the highlights of the review.
The Fujitsu F-07C is slow to boot but can easily switch between Symbian and Windows 7 once it's booted. Surprisingly, Windows 7 was "rather snappy" – almost unbelievable, considering the underpowered CPU and that it's running in a virtual machine.
Anyway, Fujitsu have packaged the F-07C with a dock that has an HDMI port and a USB keyboard plus mouse. The 4″ SVGA (800×600) screen is too tiny to comfortably use the desktop-minded Windows 7, but once you plug in the accessories, things improve slightly.
Nevertheless, the Fujitsu F-07C is quite chubby (125x61x19.8mm, 218g), is too slow (can't even play DivX or do basic mutitasking), there's persistent fan noise (yep, a fan in a portable device) and a not-so-thumb-friendly Windows 7 skin.
I don't think there's much room for the F-07C in a world where even netbooks are starting to lose the fight against tablets. It could be of some interest to uber-geeks, but not much else.
Anyway, check out the full review if you want the nitty-gritty.