The Flickr app for Android has been around for a while now but thanks to its lackluster nature and the growing disinterest in the service itself means not a lot of people know or care about it.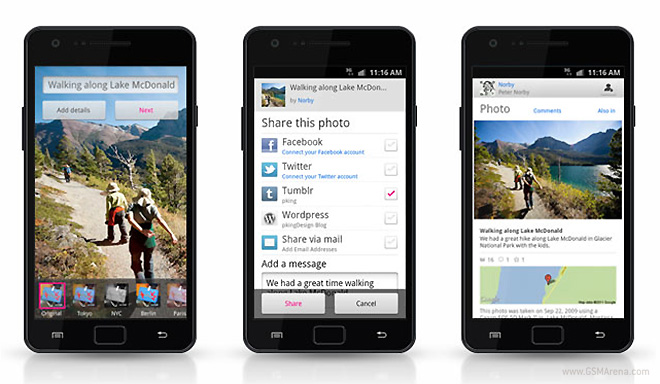 That should change a bit with the release of the new version 1.5 app, which brings some new features along with an updated UI design, which should hopefully make people excited about using Flickr once again.
If you've used the older version of the app, you'll notice that the update brings a new design. Although it's not particularly great and Flickr seems to have missed the keynote where Google announced Ice Cream Sandwich and the new Holo UI, it still looks decent.
Upon launching the app you'll be greeted with the usual Flickr way of wishing you in various languages, and after that you'll land in your user stream where you'll see your and your friends' recent activity. The second tab on the bottom shows you your photostream and contacts. Tap a photo and you'll see its details, tap it again and you'll see it full screen. You can swipe horizontally to move between images and double tap to zoom.
The Flickr app also lets you take photos and there is a new camera mode for that. Once you take a photo, you can edit it using the built-in filters, which have become all too common these days and then upload them. Flickr lets you upload images in their original resolution without any compression. You can also upload images that are already present in your phone's gallery.
The fourth tab at the bottom shows you your friends' uploads and the fifth one shows interesting images on Flickr by all the users. You can also swipe left to see nearby images from people who are in your city.
Overall, the new update seems nice and should hopefully make mobile users who have migrated to services like Instagram give Flickr another chance. Flickr does need to keep updating this app regularly, however, and especially keep up with new design changes that happen in the Android world.
You can download the Flickr app for Android from here.