It was fun in the beginning but now reporting a new version of Firefox has become as mundane as telling the time. Just a few weeks after Firefox 7 came out Mozilla has now released Firefox 8.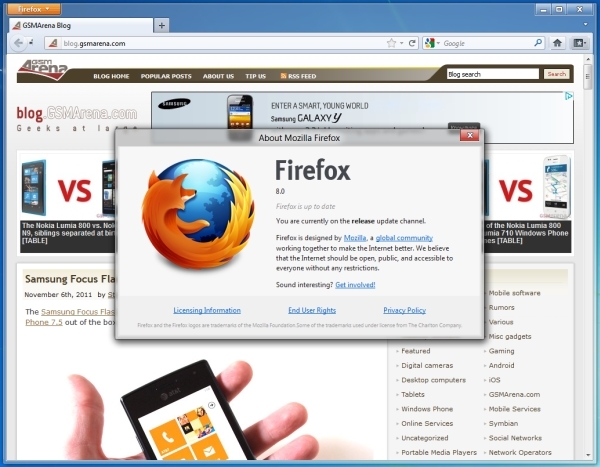 But this isn't an official release yet. The official launch is slated for November 8 but keeping with their tradition Mozilla has provided the Firefox release on their FTP servers a couple of days before.
As for the changes in the new version, there is nothing noteworthy about any of them. You can find the list below.
Add-ons installed by third party programs are now disabled by default
Added a one-time add-on selection dialog to manage previously installed add-ons
Added Twitter to the search bar
Added a preference to load tabs on demand, improving start-up time when windows are restored
Improved tab animations when moving, reordering, or detaching tabs
Improved performance and memory handling
Added CORS support for cross-domain textures in WebGL
Added support for HTML5 context menus
Added support for insertAdjacentHTML
Improved CSS hyphen support for many languages
Improved WebSocket support
Fixed several stability issues
If you don't want to wait till tomorrow to get the update officially, you can download it for your respective system from the links below (US English version).