There is little doubt that the BlackBerry PlayBook is the most anticipated product to come from RIM in a long time. After all, the initial announcement was almost seven months ago – which is a hefty amount of time in the rapidly changing mobile technology world.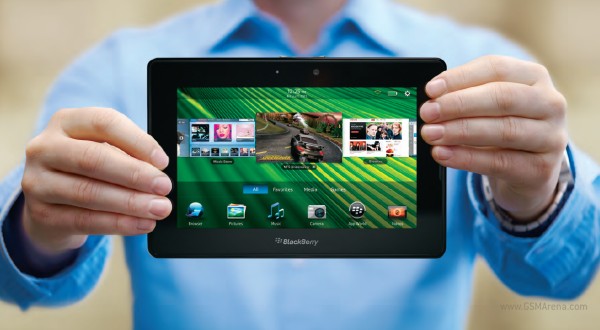 Back in September, 2010, the freshly announced PlayBook appeared to have all the muscle necessary to carve its spot in the market for tablets. It was the first tablet offering with a dual-core processor. The latter, coupled with 1 GB of RAM seemed like a certain recipe for success. It was hardly a surprise when the PlayBook trounced the original iPad in a browser comparison – the RIM product simply had better hardware.





BlackBerry Playbook official images
But that was back then. Now, the BlackBerry PlayBook faces some pretty tough dual-core competition in the face of Apple iPad 2 and a horde of Android Honeycomb offerings. You are welcome to see how the newcomer fares in our short hands-on review. We start with the pros and cons.
Key features
7" capacitive touchscreen display with a resolution of 1024 x 600 pixels (16:9) with good sunlight legibility
Wi-Fi 802.11 a/b/g/n connectivity
1GHz dual-core Cortex-A9 CPU, PowerVR SGX540 GPU, TI OMAP 4430 chipset
QNX-based BlackBerry Tablet OS
16/32/64GB of onboard storage
Weight of 425 grams
Bluetooth 2.1 + EDR
Accelerometer, compass and six-axis gyro-sensor
5MP auto-focus camera with 1080p video recording at 30fps
3MP front-facing camera with 1080p video recording at 30fps
Excellent browser with HTML5 and Adobe Flash support
microHDMI port for easy 1080p video streaming
Standard microUSB port
Compatibility with Android apps to come soon
3.5mm audio jack
Innovative bezel-based gesture controls
BlackBerry Bridge connects the Playbook to your BlackBerry smartphone
Excellent multitasking
Slim 10mm waistline (though not as impressive as the iPad 2)
Leather convertible case, which doubles as a stand (optional, about $30)
Main disadvantages
No native email client, calendar and contacts apps (yet)
Non replaceable battery
Limited amount of third party applications (for the time being)
No memory card slot
No 3G version available yet
No kickstand – it cannot stand on a table without the help of a dock stand or case
It is fair to say that the list of disadvantages includes some seriously grave omissions from the functionality of the otherwise lovely looking OS. I can all but guarantee you, folks, that the manner and timeline in which RIM will resolve them will ultimately seal the fate of the product and make it a success or a failure.
Design and construction
In terms of design and build quality, the BlackBerry PlayBook gets my high score. Its compact body is a great representation of the "form follows function" design credo. There is a chance that the looks of the device might bring mixed reactions – some might find it beautiful in its simplicity, while others might complain that it is dull. I am personally fascinated by the understated looks of the Playbook.



With a 7-inch screen, the tablet is pocketable
RIM have made no compromise with the materials used to build their first tablet. It appears to be solidly built and it is definitely pleasant to hold. The back is made of high quality plastic with a matte finish, leaving no chance for fingerprints. Same cannot be said about the front of the device. The magnesium front panel is covered by glass which is quite prone to fingerprints. After a short period of use, I could see the history of the gestures which I applied to the tablet when I turned its screen off. RIM have thought of this and there is a fairly easy remedy – there is a cleaning cloth included in the retail package of the PlayBook.
The top of the PlayBook is home to all four buttons of the device along with a 3.5mm headset connector. You get two volume button, a play/pause one, and the on/off button of the device. I would like to point out that the latter is a bit of hassle to use due to its small size. You need to apply some serious pressure to it (preferably with your fingernail) in order to achieve the desired result.
At the bottom of the device you will find a charger/usb connectivity port, an HDMI output, as well as a docking connector. The sides of the tablet are free of any buttons and make holding it in landscape mode a pleasure.



The Playbook is meant for landscape handhold: connectivity port at the bottom and the keys at the bottom
Out of the box, you get all the accessories you need for the device except headphones. I am not upset from this fact however, since the latter have never been the best from the stock accessories provided by RIM in previous devices. There is a lovely neoprene pouch for the PlayBook which fits it snuggly and protects it from unwanted accidents. The charger and USB cable are standard micro USB.



The Playbook retail kit includes a nice pouch
As far as size is concerned, the tablet can definitely be considered small in comparison to its rivals. Its 7 inch screen is at the lower end in terms of size for tablets and, in my view, this is a good thing. You can easily hold the device in one hand without worrying that it might accidentally slip and fall. It is also easy to carry around – I could fit it in the pocket of my jacket and it was a big deal for me since I am not a huge fan of carrying an extra bag around.
User interface
Software is where things get interesting with the PlayBook. It is the first device introduced by RIM, which sports a brand new QNX platform based OS – a radical departure from everything which the company has done up until now. The OS looks new while still preserving some old school BlackBerryness. RIM is putting a big bet on it to bring new followers and retain its core base from running off with and iPad or some Android based tablet instead. We will see this OS in new BlackBerry smartphones in the near future as well.
We all know that the web browser is among the tallest of measuring sticks for all tablets on the market today. It is, hands down, the strongest feature of the PlayBook to date. It is fast and easy to use with the gesture controls. It supports tabs and pinch to zoom. It is easily the best web browser which I have seen in a device of this type. Flash support makes opening any website a breeze – it even handled high definition YouTube videos better than the embedded application.
Multitasking and switching between applications is also a pleasure with the BlackBerry PlayBook. There is a serious hint of Palm's own WEB OS in this operation but I am just going to pretend that it is not there and enjoy the gesture controls and the seamless transition between different tasks.
The AppWorld is supposed to be RIM's answer to Apple's AppStore and Google's Android Market. The thing is that, at this point in time, it, well, isn't. RIM promises thousands of apps to be "available soon" so I hope that their pledge will come to fruition sooner rather than later. Much has been said about the support of Android applications via an emulator as well. I am personally looking forward to this feature with a great deal of excitement because it might be the secret ingredient which will bring the PlayBook to greatness. The small amount of currently available apps are sorted neatly into categories and are easy to access.
The BlackBerry PlayBook comes with a bunch of embedded features which are ubiquitous but useful. You get a weather app and a book reader out of the box. The device also opens and edits office documents without a need of additional software. The music and video players are simple and pleasant to use. There are two preloaded games in the tablet, courtesy of Electronic Arts – Tetris and Need for Speed. Both utilize the powerful hardware nicely and bring a good mobile gaming experience.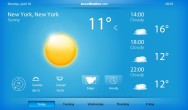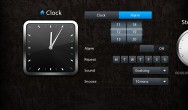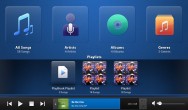 Weather • Clock • Music Player
Settings of the tablet are handled easily and are intuitive to use. I did not get a chance to test BlackBerry Bridge since I do not own a BlackBerry smartphone. I connected the tablet to my PC easily with the USB cable (not a big fan of Bluetooth). The device shows up on your computer as a disk drive so file management is easy and simple.
Check out the video of the PlayBook UI in action:
Two cameras that shoot FullHD clips
Here are some 5 megapixel camera samples from the BlackBerry Playbook. As you will see, photo quality is not spectacular and there is a lot to be desired. A little consolation is that the snaps look really well on the tablet's screen. You will notice they are not the full 5 megapixel resolution, we accidentally shot those in the widescreen capture mode. You can rest assured that beside the added portion of the viewport, the 5 megapixel images look no different, the sample below are merely crops in 16:9 ratio:
Here are several full 5 megapixel images that have the regular 4:3 aspect ratio, just so you see there's no difference in photo quality:
Besides shooting stills, the BlackBerry Playbook can also shoot FullHD 1080p videos with ITS BOTH CAMERAS. For starters, here's a mashup of several video samples taken with the BlackBerry Playbook in 720p:
And here's a sample shot in full HD. And don't forget to switch to 1080p view mode and open the video fullscreen to appreciate it:
Final words
After several days of quality time with the BlackBerry Playbook, I can describe it in exactly three words – work in progress. As far as hardware is concerned, the tablet has everything necessary to be a success. Unfortunately for RIM, there are several rival offerings out there with similar specs, running on much better established software platforms. And we all know that a tablet is as good as the applications which it can offer to the consumer. In this department, the PlayBook needs to improve dramatically and in the shortest period of time possible in order to avoid being an also ran in the tablet race.