Microsoft and Apple fans are known to take jabs at each other at every opportunity they find. It's mostly good, clean fun although sometimes it can get ugly, as can be seen from the comments section on technology websites, including ours.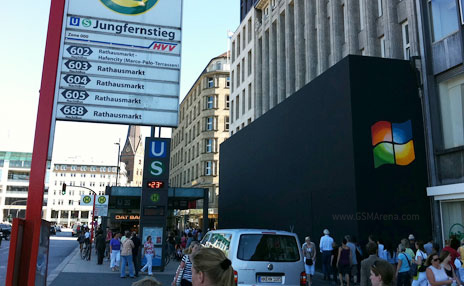 Today we came across an event that falls under the "Good, clean fun" category, where the Windows logo was found plastered on an upcoming Apple Store.
The black structure you see in the picture above is actually the upcoming Apple Store in Hamburg, Germany. New Apple stores are usually covered in those black structures before they are unveiled to the public. Some Windows fans, however, decided to use this opportunity to plaster a huge Windows logo on the side. The logo has been painted over in black ever since but it managed to serve its purpose.
I'm sure Mac fans won't mind this though. After all, you can install Windows on Macs too, remember?