Facebook may be ubiquitous in people's personal lives, but not that much when it comes to intra-office communications. The company obviously wants to change that, so it's launching Facebook At Work.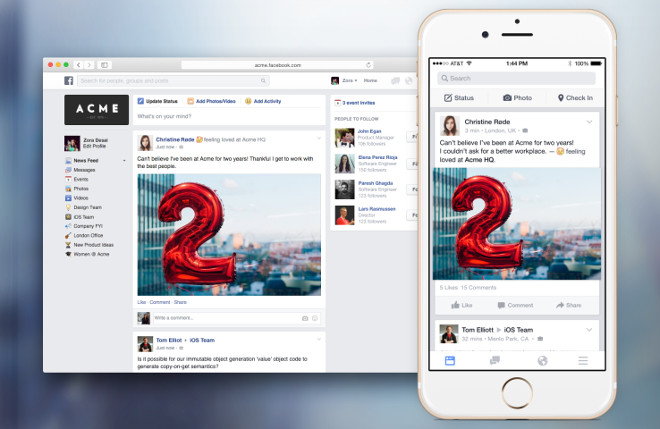 This is best described as the social network for your workplace. It has mobile apps for Android and iOS, which should launch today, as well as a website that's accessible from computers. It looks like Facebook, but will get your company's branding. Oh, and Facebook won't show ads inside it, nor will it track what you do or hold your data.
Otherwise, all the tools and features from Facebook will be inside Facebook At Work too. This includes Groups, which should be pretty useful in an office setting – Facebook hopes it will put an end to email lists. Supervisors will be able to create dedicated logins, and as an employee you'll have the option to link your Facebook account to your Facebook At Work persona – but only if you wish to do so.
There's just one huge caveat, though. For now, Facebook At Work will be employed by a limited number of companies. Since November, Facebook has been testing the new service with less than a dozen businesses. Now it's expanding Facebook At Work to a larger audience, but it's still unclear when it will be publicly available for anyone to use. Facebook is apparently still working out those details, as well as possible pricing levels. The service is free at the moment, but since it will show no ads, it's safe to assume that subscriptions or premium paid features are going to come in the future.