Those of you using the Facebook Messenger on Windows probably got the same message as myself this morning. According to the notification, the Messenger will stop working on Monday, March 3.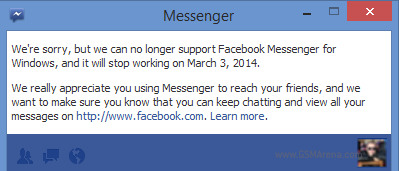 There is no explanation why Facebook decided to kill its standalone messenger app, but it isn't unexpected.
The Facebook Messenger installer for Windows has disappeared completely from Facebook's website a while ago. Even its Help articles on the website were hard to find, so it was clear back then Facebook will be dropping support for the tool in the future.
Well, it is time. The app will stop working on March 3. The help section is available now and explains how to uninstall the Messenger off your PC.
As a user who really got used to the app, I am quite disappointed. I guess my only option now is to rely on the dedicated Metro/Modern Facebook app. Bugger!